This post may contain affiliate links, so I may receive a commission, at no cost to you, if you make a purchase through a link. Check out the disclosure  for more info. And thank you for supporting free content!
So you wanna be an actor… But where do you start?
And how do you get into the biz?
While no two careers are the same and the long term paths for all of us are probably going to look a little different, there are some absolute basics you need to get going.
How Do You Become an Actor With No Experience?
Remember that becoming an actor is going to take a little time and a some hard work. Learning how to become an actor with no experience is where everyone starts so you can do it too! But it takes effort and an investment of time, hard work and yes, money….. with no payoff for a while.
Here are 9 essential steps to becoming an actor and starting an acting career.
Step 1: Learn How To Act…

Seriously, You Can't Skip this!
This may sound silly to say, but you would be surprised by how many people try to skip this step. Yes it's true that there are a handful of lucky ones who are born naturally talented and 'get discovered', but most people have to work their butts off to learn the skills. Did you know that Matt Damon, Ben Affleck, Natalie Portman, Rashida Jones and Mira Sorvino all graduated Harvard Drama School? And Lupita Nyong'o, Meryl Streep, Paul Giamati, Angela Basset, Paul Newman and Frances McDormand all graduated from Yale Drama School? This is no coincidence that so many Hollywood A-Listers come from Ivy League schools. While I understand that we don't all have that opportunity, you can still start from where you're at. Learn the basics of Scene Study, Camera Techniques, Script Breakdown, Creating a Character and Spoken Level Voice. If you haven't, chances are someone in the audition room has.
---
Trying to decide where to start with acting classes
or figure out which one is next? Check out:
---
Step 2: Learn How To Audition…. Like Really Well!
Auditioning is a separate skill unto itself. Yes, of course it's acting, but it's also etiquette, how to work the room, camera tricks and controlling nerves. And to start landing gigs, you're going to need to get good at auditioning. Some of the best audition skills I've learned over the years have been from taking 8 week sessions of classes with veteran casting directors. They have a wealth of knowledge to draw on and share. And yes, CD's will definitely remember you after 8 weeks in the room with them, rather than 5 minutes out of a 2 hour workshop one day.
---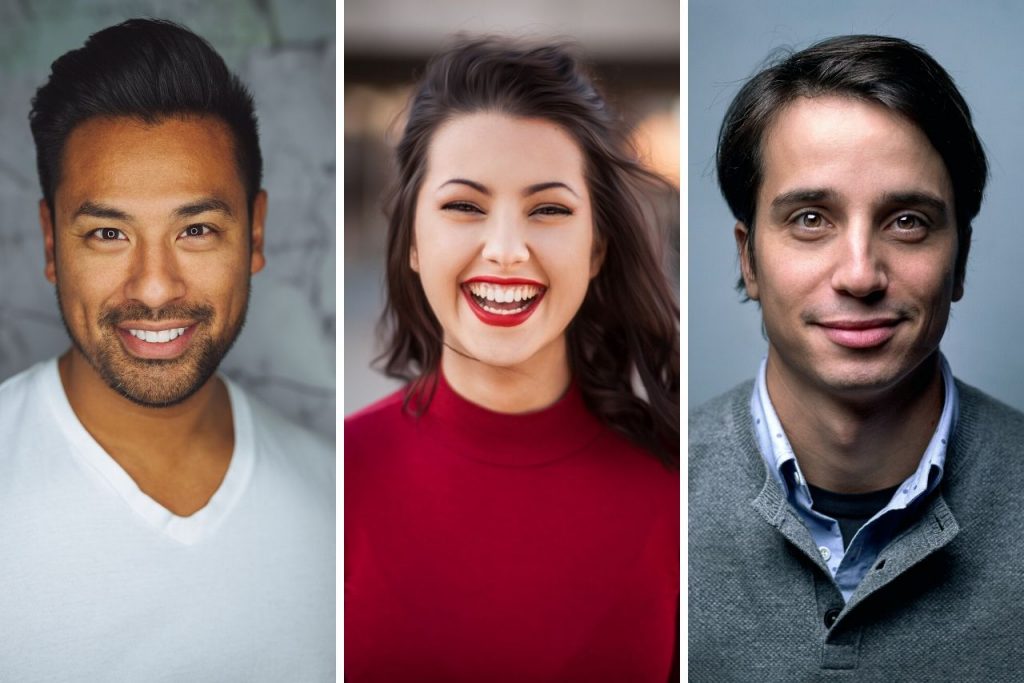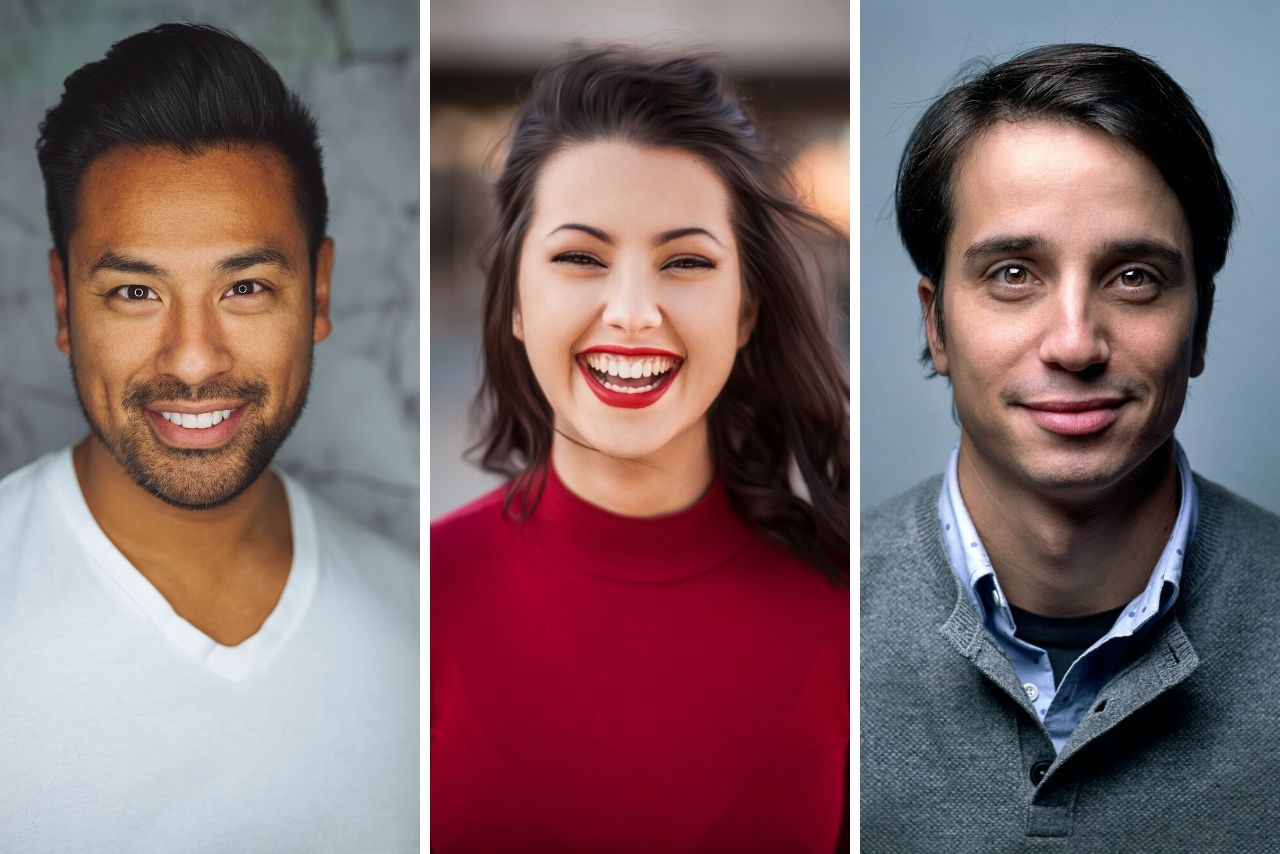 Step 3: Get a Great Actor's Headshot… That Really Looks Like You
Your headshot is your calling card – it's the main part of what is going to get you into the audition room to vie for the part. Yes, the headshot has to look like you, and yes, it has to be good…. really good!
This doesn't mean that you have to runout and spend $1000 on a headshot session, and as a matter of fact I would encourage you not to, early in the game. Commercial shots are easier to start with simply because they are more, casual, more friendly, and really just you. And commercials are also your best shot for getting a start. Avoid the allure of the beautiful, polished, magazine quality glamour shots. Yes, they are so fun to have, and yes, we all want to look stunning, but they usually end up being very expensive mementos! Do some research and find examples of what current headshot trends are in your area at the moment and start with a photographer that shoots a lot of people that look like you and is within your designated budget.
Need to find a headshot photographer? Check out my list of preferred Headshot Photographers for actors in Los Angeles, New York and Atalanta
---
Step 4: Start With Acting in Commercials
Commercials are an excellent way to break into the biz! Commercials are something you can totally jump into with little to no experience or training – because you are basically playing yourself! They can also be highly lucrative, give you good audition and on-camera experience, teach you the basics of contracts and union vs non-union and basically get you working as an actor. At least in the U.S. commercials are a different ballgame from "theatrical" or film and television acting. There are different casting directors, different agents and different contracts. But they are still part of the overall industry.
---
If you are even thinking about doing work as a
Background Actor this is must read!
---
Step 5: Do Background and Extra Work for Movies & TV Shows
Working as a background actor or as an extra may not be super glamorous, but you don't need any previous experience and it's a great way to start to learn the ropes. You also get use to the industry jargon and norms. Keep your mouth closed, pay attention and do what you are told to, and you can learn a LOT about who is who on set, what to do, what not to do and just generally how things work. Get on a set as much as you can as an extra through a background casting agency. It is literally like getting paid to go to school.
---
Actor's Resumes are really specific!
Make sure you know the correct roles and titles for you work.
---
Step 6: Build Your Acting Resume
We all started from zero; keep that in mind. But yes, you do have to build your resume. A great place to start is student films. Reach out to every college and university in your area with film program and get on their roster of actors. You typically don't get paid for student films, but you do get a credit on your resume, experience and if you're lucky, footage. And some of the thesis projects at the more prestigious schools can be really well done. Also, keep in mind that this is the next generation of film makers – get to know them now. You never know where they're going to be in 5 years!
Side note: Agents and manager are going to want to take a look at your resume when you come knocking. They want to know that you are serious about this and that you've invested in yourself before they invest in you.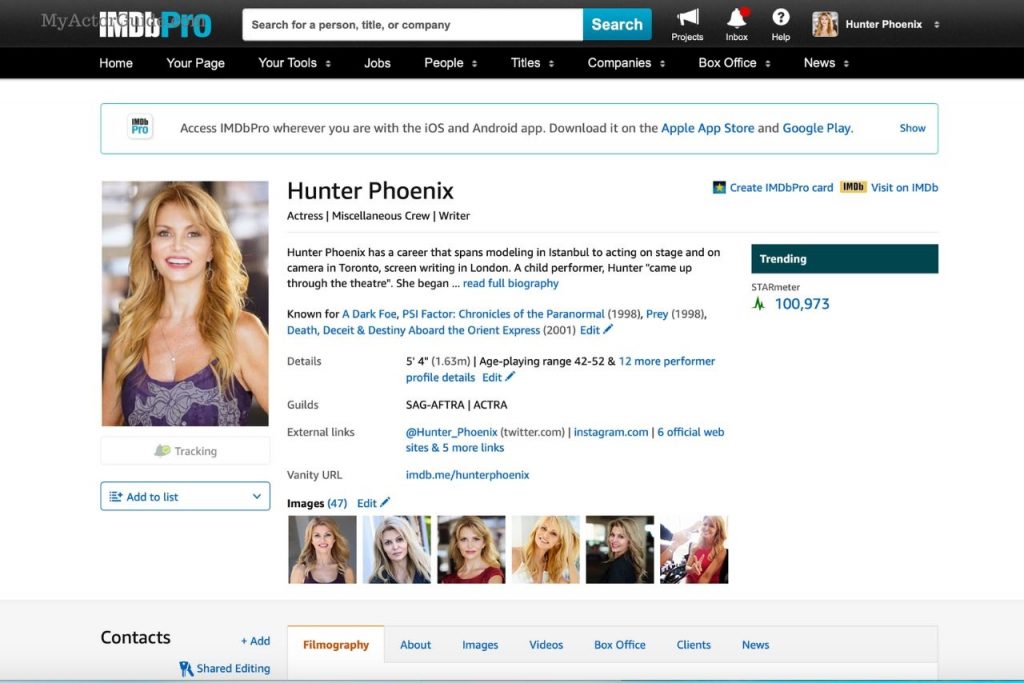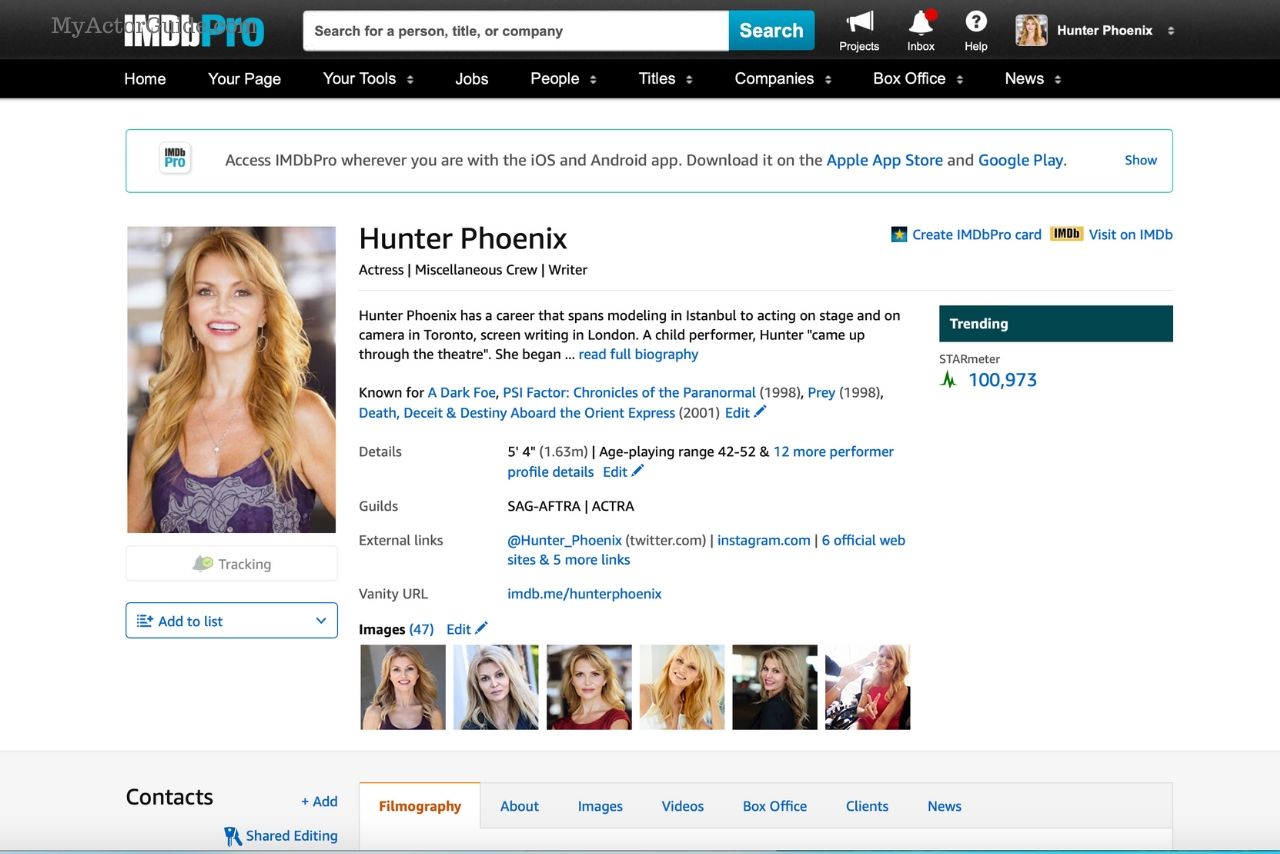 Step 7: Get Your First IMDB Credit As Soon As Possible
IMBD or Internet Movie Database, although it is totally privately owned by Amazon, and way before they started producing show, has become the industry standard and go-to resource for everyone in the biz. You need a profile on there. Period. Get you first credit as soon as you can, and some student films with qualify, and then when you get a bit of traction sign up for a Pro account so you can have photos and more displaying. (yes, they charge for this!)
Step 8: Start Building Your Acting Reel
Your "reel" is video footage of work you have done. Years ago this was all of your best (or only) work put together in one, five minute video. Now it's more common to have a series of 20 second clips. Clips are also split into different genres; dramatic, comedy, commercial, languages, special skills etc. – whatever applies to you. Student films and indie projects are a great place to start for this and once you have some footage it makes it easier for you to get cast in the next project!
---
Agents and Managers have very different job responsibilities;
be sure you know what you're getting into!
---
Step 9: Sign With a Reputable Talent Agent or

Manager
Notice that I didn't put this one first! The previous steps are crucial – seriously. Agents and managers want to see that you have some skin in the game and that you are serious about this before they invest any of their time and resources into working with you. Put together a package that is going to speak to them, just like applying for any other job. And make sure to find someone who is right for you in your career right now.
Bonus: Other Things That Are Important
What is Your Why: Why Do You Want to Become an Actor?
So often the only things we focus on are craft and how to get work, but a great question to ask yourself is Why? Why do You want to do this? Is it about the work? To tell stories? For the camaraderie you feel in acting classes? The promise of big money? Or to be famous? Everything is a valid answer – no judgement here! But if it's purely money, honestly, a banker or stockbroker might be a better choice. Reality stars can become famous, and writing is also telling stories. Maybe your answer is a combination…. mine was…when I finally figured it out years later. Knowing your why is highly personal and will help you avoid the pitfalls, wrong turns and bad advice. "To thine own self be true." (Shakespeare, Hamlet)
And Then the What: What Kind of Acting Do You Want to Do Most?
Ask yourself what kind of acting you are most interested in – theater, film, television, stand-up comedy, proceedurals, sitcoms, drama, rom-coms? The thing is, when you first start out, you just want to work! And that is often necessary and just practical; how can you tell what you like to do if you haven't tried it? And of course, there is the immediate need for experience, footage and credits. But start paying attention. Take classes in different areas, experiment with different things, do student projects – whatever you can to test the waters. Once you know what you want to do then you can start setting specific goals. (Hint: NYC is mostly dramatic series, and LA is much more about sitcoms!) A good example is that some people love comedy and some flat out hate it! But you won't know until you give it a shot 🙂
---
Interesting, Cool … and Need to Know:
---
Learn As Much About Acting and The Biz as You Possibly Can
Experts in any field study for years and continue to learn throughout their entire careers, if not their entire lives. Would you really want a doctor with only a few years of schooling? Acting is a highly competitive career so come onto the playing field as well prepared as you can. Be selective in who you study with, but take classes across various areas of the industry – scene study, sitcom, spoken level voice, improv and creative workshops. Classes can also be a catalyst for personal growth, or, if you're lucky, a safe place to take risks. You may also discover hidden talents.Classes are also a great way to keep your artistic spirit fuel up and fed while you are developing skills and building your career.
Have a Job or Side Hustle That Pays The Bills… Yes, Really
I know, this may suck, but don't underestimate a steady, reliable income, or overestimate yourself, luck or fate. Life and careers are challenging enough without having to wonder how to eat and pay the bills. Plus, when you first start out, and at times when you are not working, acting is expensive! You have to be able to take classes, and get headshots, and then more headshots, as well as have time for auditions. So unless you've got a trust fund, you are going to need some cash. Flexible jobs like restaurants or bartending gigs, catering staffing companies, dog walker, Uber driver or personal assistant are perfect for this. Trust me when I say, acting is ugly on a super tight budget. Give yourself some breathing room and take care of the basics.
---
Want a job you can do from home? Something suited to a creative personality? Also read: How to Have A Survival Job You Love and….
---
Develop Strong Relationships in the Entertainment Industry
Relationships are always important, but I can think of few fields where they are as crucial as in the entertainment industry. Start meeting people in the industry as soon as possible. Whenever you are at an audition or on set, connect with people on social media, follow their careers and remember their names. People in this business are just that; flesh and blood human beings, with real feelings, real problems and real lives. And we all crave more genuine human connection. Plus, careers are long and you never know where someone you meet today may be 5 or 10 years from now.
---
The Wrap Up
Acting as a career choice can be incredibly fun and rewarding, but like anything else in life that's worthwhile, it's gonna take a bit of work. And for actors, this is especially true. Not only do we have to continually work on our skills and our craft, but it's also basically a freelance industry for the most part, so there is the ongoing hustling for paying work.
When I first decided to pursue acting professionally, I had no idea what that meant or what the path was before me. At the time, and where I was living, no one talked about the business part of things – everything was craft, skill set and appearance. I knew I wanted to act, to create worlds with other people and to tell stories, but I had no idea why or how. And no one talked about being a 'working actor'…. you were just suppose to be a good one.
I have learned so much since starting out on this journey, and most of it the hard way. I wish I had a mentor, a manager and some practical guidance – it probably would have saved a lot of time, heartache, frustration, tears… and money! So if you're just starting out and thinking about embarking on a career as an actor, know that this advice comes from experience and from the heart; these are the things that I wish someone had taught me or that I had learned sooner.
Above all, try to stay sane! This is an industry that can pull you in a thousand different directions and can challenge your resilience, focus and sheer good-nature on any given day. Yes, it can push you to your limits, And yes, anyone who gets the chance to pursue this career would do well to consider themselves blessed. Keep your feet on the ground, head to the stars and always follow your dreams!
---
Ready to book your first job? Start here:
---
Like this? Love it? Find it useful? Tweet it. Post it. Pin it. Or share it with friends who could use the advice! Questions or comments? Pop them in the comments section below!
* This post was originally published February 23, 2020 and has been rewritten and updated
---
Are you a Pinterest junkie! Want to try Tailwind Plus FREE for a whole month? Schedule pins, increase your social media following and drive traffic to your profile! Click here for more details.
---
* Please Note:  I am not an agent, manager, or casting director. I do not procure work for actors. All information, workshops and coaching are for educational purposes only and are not a guarantee or promise of employment. Thank you for being here!