This post may contain affiliate links, so I may receive a commission, at no cost to you, if you make a purchase through a link. Check out the disclosure  for more info. And thank you for supporting free content!
When you're putting together your actor's resume, it goes without saying that you want it to look professional. Part of that is using the correct format [Download a FREE RESUME TEMPLATE here], but you also need to use the correct terminology.
---
---
This is something that I have personally found has changed over the years, but is also different from one market and/or country to another.
These are the current, correct terms to use on your actor's resume if you are a working actor in the United States.
Since most of the work you're probably going to be going out for is television, let's start there.
TELEVISION
Co-star
This is the most common role, and most likely where you are going to start. A Co-Star actor has a few lines, appears on one episode , and a character that is not central to the storyline. This might be a waiter, bank teller, store clerk, Uber driver etc. Just because it's a small role, please don't think it's not important! Honestly, they wouldn't co through the hassle and expense of writing the dialogue, casting the actor, wardrobing and paying you and doing the contracts if the role wasn't important!
Guest Star
In this role, actors appear in one episode and sometimes more, of a particular show. The character often appears in multiple scenes and plays a significant role in the story. The work is usually at the standard union weekly rate, even if filming takes place over only a day or two. If the role is particularly meaningful, a show may cast a well-known actor as a guest star, like Sterling K. Brown appearing in an episode of Brooklyn Nine-Nine.
Recurring
For your role to be considered recurring, it means that you return as the same character over multiple episodes, either over the course of a season or the entire series. Pay rate is based on the terms negotiated and the number of appearances. An actor may be under contract for a specified amount of time or are simply brought on as the story demands. On the hit tv show "Stranger Things", Maya Hawke's character Robin Buckley, has been heavily featured as a recurring character appearing in 17 of 34 episodes currently produced.
Series Regular
This is the holy grail of TV acting roles. A series regular is a member of the main cast, and is contracted to work on the show for a period of time, often for multiple years, even if the show hasn't yet been picked up for that many seasons. The actor is usually under exclusive contract with the show to appear every week, or even to be paid regardless of whether they appear / work or not.
Actors may be credited as series regulars even if they don't work on every episode. For example, on the multi Emmy Award winning TV show "This Is Us", Mandy Moore is a series regular but has not been on every single episode.
The opposite may also be true. Even if an actor appears in most episodes of a season or if they are part of the main storyline, it doesn't necessarily mean they are credited as series regulars.
Contract Role
This term is used on AFTRA contracts for a series regular or recurring character on a daytime drama or soap opera.
Under 5
This is also an AFTRA contract term, and is used for a role with between one and five lines.
---
---
FILM
Lead (Star): This actor appears in most scenes or in a number of critical scenes, in a role that is central to the primary story line. The role is generally so significant, that without this character the movie would not exist. His or her name appears in the on-screen credits at the beginning of the film, and also in the complete end credits.
Supporting
The actor fills a primary role and appears in one or more scenes in the movie. Although this character is important to the storyline, the role itself is not a lead character.
Principal
In film, this term refers to a speaking role, without getting too specific about how central the actor's character is to the story. It has also been used to denote non-contract players who have five or more lines.
Featured
The actor has one scene with one or more lines; not big enough to be a supporting role and easily cut from the final version of the film. If the role stays in, the actor's name appears in the end credits.
---
FILM & TELEVISION
Extra or Background Performer
This is a non-speaking role and often part of a crowd or larger group, or literally the background. Sometimes you might see the term "Featured Background" which means the actor was not in a crowd scene but clearly recognizable, i.e. standing next to the star. Either way, for Background or Extra work, no on-screen credit is given, and this should not be used on an acting résumé
Cameo
A cameo is when a well-known actor or celebrity makes a special appearance in a scene in a movie or on a television show. Depending on the reason for the appearance, the person may or may not have lines.
Cameos are used for many reasons, from creating a fun moment, like Brad Pitt appearing on "Friends" when he and Jennifer Anniston were an item, to honoring creators like Walter O'Brian in "Scorpion" or Stan Lee in the Marvel Cinematic Universe. Stan Lee holds the distinction of appearing in cameos in all of the Marvel Cinematic Universe movies from Iron Man to Avengers: Endgame.
Notable Cameos:
Cher in "Will and Grace"
Michelle Obama in "Parks and Recreation"
Prince in "New Girl"
Oprah Winfrey in "30 Rock"
Carrie Fisher in "The Big Bang Theory
Jim Carrey in "The Office
---
---
THEATRE
Theatre credits on a résumé are a little bit different. They usually only include the character name, as the role size is generally known. (i.e Blanche in "A Streetcar Named Desire".) If the production is a new, or original work, or lesser known production, an actor may note "lead" or "supporting" after the character name.
Understudy
This is exclusively a theatre term. It's used for the actor who only appears in a role if the main actor who was cast in that role cannot perform. Being an understudy is a lot of work! They still have to learn all of the lines, cues and blocking, but may rarely if ever get to perform. For larger productions or more notable actors, there may be a guarantee of a certain number of performances.
Knowing the right terms to use for the types of roles you book not only helps your resume look professional, but it's essential to understand for your auditions and contracts as you start to plan your career and move forward.
As always, I hope this was super helpful! If it was, like it or love it….. Pin it, post it, tweet it, share it with your actor friends! It's a tough business and we could all use a little help!
Questions or feedback? Head to the comments section below. I answer every one 🙂
This post was originally post in October 2020 and updated May 2021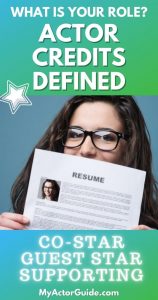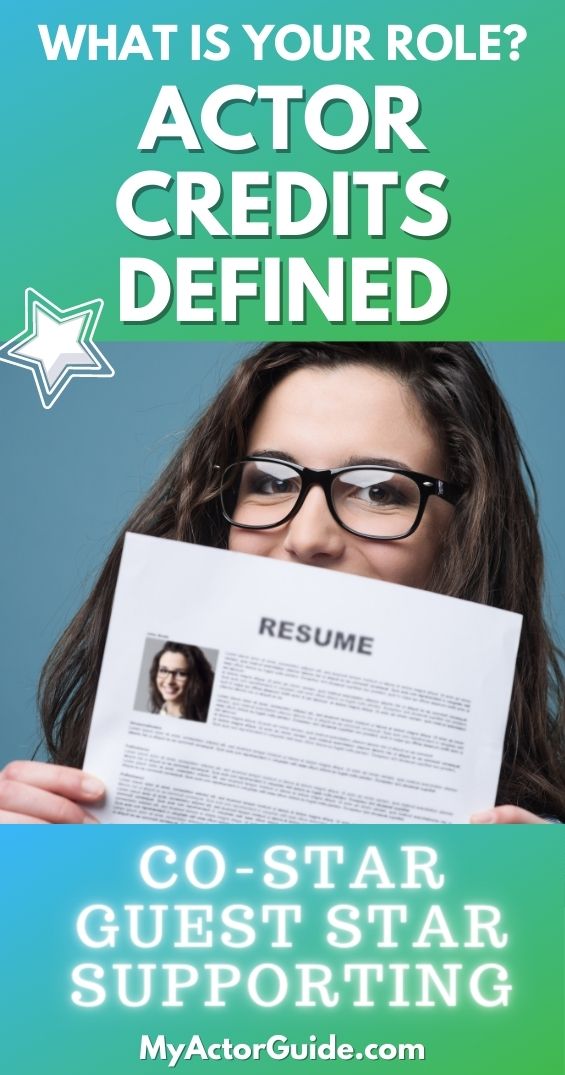 * Please Note:  I am not an agent, manager, or casting director. I do not procure work for actors. All information, workshops and coaching are for educational purposes only and are not a guarantee or promise of employment. Thank you for being here!