This post may contain affiliate links, so I may receive a commission, at no cost to you, if you make a purchase through a link. Check out the disclosure  for more info. And thank you for supporting free content!
Can I work during the actors strike?
Did you know that you can STILL WORK during the strike? Even as a Union Actor? (And FYI….YES… this strike is absolutely necessary. AI and residuals are the two biggest issues.)

If you are a NON-UNION actor, this probably the best time in the history of the industry for you to book work! Non-union production has really ramped up because streamers and cable channels are getting desperate for content. If you are a UNION actor there are strike-compliant productions can work on legally.
To help you figure this out, I've put together a list of the types of projects in which SAG-AFTRA members can still perform, as well as a list of prohibited projects and links to official strike resources.
What projects can I work on as a union actor?
The SAG-AFTRA strike only affects specific types of work and contracts, enabling members to continue working under a number of SAG-AFTRA contracts such as:
Union on-camera television and radio commercials
Union voiceover and off-camera commercials including dubbing, audiobooks and podcasts
Corporate, educational & non-broadcast (formerly "Industrial")
Union-approved student films
Television programs covered by the network code, such as daytime serials/soaps, variety shows, talk shows, etc.
Sound recordings and music videos
Station contracts and broadcast news
Interactive media
Influencer Agreement
Cameo for Business Agreement
Short Project Agreement (SPA)
Micro Budget Agreement (Micro)
Student Film Agreement (Student)
What types of work are prohibited for union actors?
SAG-AFTRA has told its members not to participate in any services covered under the TV/Theatrical Contracts stated in the SAG-AFTRA strike notice. These include the following:
Principal on-camera work. This includes acting, singing, dancing, performing stunts, piloting on-camera aircraft, puppeteering,
performance capture or motion capture work.
Principal off camera work, meaning ADR/looping, TV trailers (promos) and theatrical trailers, voice acting, singing, narration — including audio-descriptive services not stated in the SAG-AFTRA non-strike work guidelines, stunt coordinating and related services.
Background work
Stand-in work
Photo and/or body doubles
Fittings, wardrobe tests, and makeup tests
Rehearsals and camera tests
Scanning
Interviews and auditions (including via self tape)
Promotion of/publicity services for work under the TV/Theatrical Contracts (tours, personal appearances, interviews, conventions, fan expos, festivals, for your consideration events, panels, premieres/screenings, award shows, junkets, podcast appearances, social media, studio showcases).
Negotiating and/or entering into and/or consenting to an agreement to perform covered services in the future, any new agreement related to merchandising connected to a covered project, The creation and use of digital replicas, including through the reuse of prior work.
Performing on a trailer for a struck production or other ancillary content connected to a struck production.
A complete list of non-struck work was provided in the Notice to Members Regarding Non-Struck Work. If you're not sure about whether or not you can audition for, accept or continue working on a project, by all means email sagaftrastrike@sagaftra.org.
You may also be able to work on projects produced by production companies not affiliated with AMPTP, if their projects qualify for an Interim Agreement. You can find a list of projects operating under an Interim Agreement at sagaftrastrike.org.
SAG-AFTRA Strike: Guide for Actors PDF
Want a really simple version of this? Download the PDF now… no opt-in required!
More Resources & Info: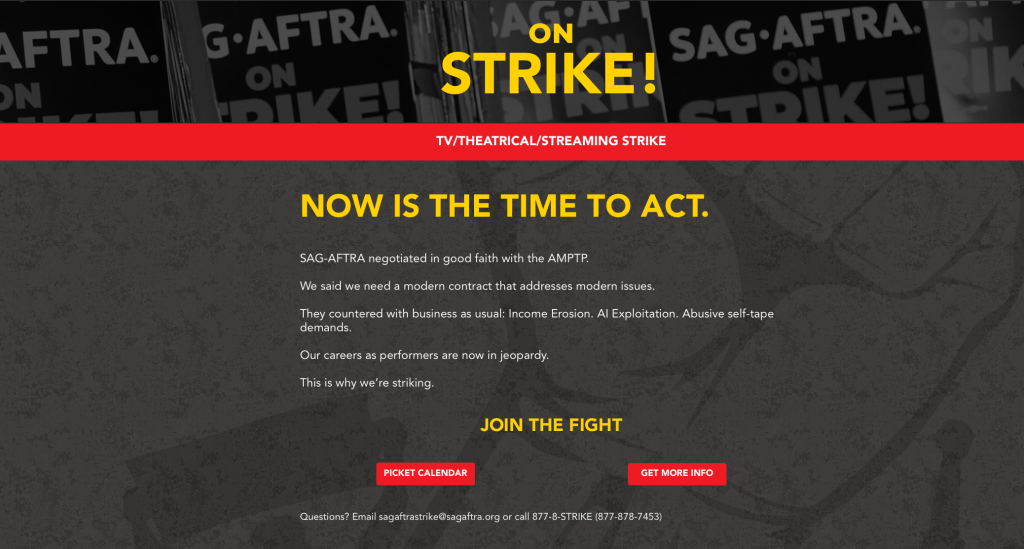 What are your thoughts on the strike? Let me know in the comments below!
* Please Note:  I am not an agent, manager, or casting director. I do not procure work for actors. All information, workshops and coaching are for educational purposes only and are not a guarantee or promise of employment. Thank you for being here!