This post may contain affiliate links, so I may receive a commission, at no cost to you, if you make a purchase through a link. Check out the disclosure  for more info. And thank you for supporting free content!
As a new actor you're going to have to take acting classes – lots of them! But finding the class and the instructor that's right for you at this time and stage in your career can be challenging.
There are hundreds of amazing acting coaches, teachers and classes, but not all of them are going to be a good fit for you, or may be the best use of your time and money right now, so it's important to find a good match for you.
How To Find and Acting Class That's Right for You [10 Questions to Ask Before You Sign Up]
Research Acting Classes and Studios in Your Area
Acting classes are both expensive and time consuming, so you want to do a little bit of research before jumping in. This may seem like a given, but something as simple as putting together a list gives you an overview of who's offering what. Here are the top 10 questions you should ask and answer before signing up for an acting class.
What Type of Classes Are They Offering
There are many different types of acting classes that you will need at various times over the course of your career i.e. Meisner, Method Acting, Comedy, Improv, Scene Study, On-Camera Technique and Audition Technique would be the basics. If you are just starting out, Improv classes are a great jumping off point and then of course Basic Acting Classes and Scene Study are a must!
Do They Offer Beginner Classes
Not all studios offer beginner level classes, or some may offer and introductory class as a pre-requisite to their more advanced classes. As you move through your career, it's not uncommon to have to audition for advance level classes or have a certain number of acting credits or study with specific teachers. This simply makes sure that you are studying with other actors at the same level and are not repeating basics or being thrown into the deep end too soon!
How Is The Class Structured
Not all acting classes are carried out the same way. Some may start with acting theory and basic group exercises, while others may partner actors up to work together in pairs. Check the website or ask for a breakdown of how the classes are set up week to week.
Who Is the Instructor?
Check out who is teaching the acting classes you want to join or are thinking about taking. Do a bit of research online about the instructor. Are they strictly a professional acting coach? Are they also an actor? What credits do they have? And do they have expertise in the area you are looking to study right now, i.e. Voice, Comedy, Scene Study etc.
---
---
How Long and How Much
Is this a one day workshop or an 8 week intensive? And how many hours are each individual class? Some instructors and studios like to go for 2 hours at a time and others 4-5 hours. And prices can range from about $100 to over $1000 Make sure it's something that's going to work well with your schedule, your personality type and your budget right now.
What Is The Cancellation and Make-Up Policy
This varies widely from studio to studio and is especially important for acting classes that run for a couple of months. Life happens and things come up. What happens if you can't make a class? Do you just lose the money or can you make it up another time? How many make-up classes are you allowed per session?
What Kind of Homework Will There Be
Almost every acting class you take is going to involve homework between classes. Will you need to learn a new scene each week? Work in pairs with another actor? Learn a monologue to perform for the next class? Or simply observe people and behaviors at a local shopping mall?
Some acting classes may require a large time commitment and have in-depth homework that you'll need to complete every week. Make sure it's workable with your schedule right now.
How Will You Receive Feedback During Your Acting Class
You always want to look for acting classes where you will receive some type of feedback from the instructor. An acting teacher is there to help you improve your acting and give you advice and direction. Are the classes on-camera and will you watch your own work? Are you performing in groups, with a partner or individually?
Often times, a student is recorded and the video is played back. The teacher then takes time to analyze what the student did and where they can improve. This means each class can be long and requires a bigger time commitment from students.
Ask Friends, Ask Your Agent and Check For Reviews
Absolutely everything is reviewed somewhere online these days. What are other actors saying about this particular acting studio or acting teacher? Are they easy to work with or do they have a reputation of being difficult and hard on actors? Ask other actors you know, check Facebook groups and also ask your agent or manager if you have one. They may suggest a class or at least an area of study that would be good for you right now.
Ask The Acting Teacher
If you find an acting class that looks like a good fit but you have questions, definitely ask the teacher! Most acting studios and teachers are happy to answer your questions and tell you more about how their class works. They genuinely want the best fit for all students and a positive overall experience for everyone in the class.
Until next time, keep reaching for the stars and following your dreams! xo Hunter
---
---
Was this tip on how to find the best acting classes for you helpful? What's your biggest struggle when it comes to an acting class? Tell me about it in the comments below… I answer every one!
Like this post or love it? Tweet it. Post it. Pin it. Share it with actor friends! It's a tough business and we could all use a little help!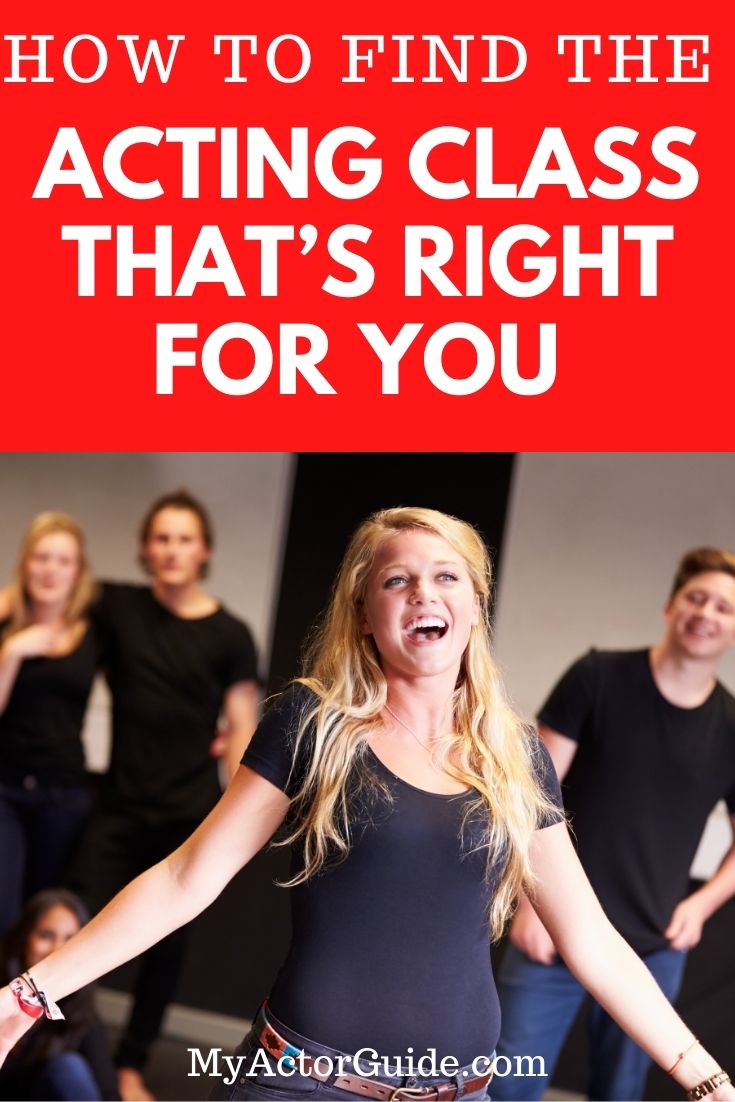 * Please Note:  I am not an agent, manager, or casting director. I do not procure work for actors. All information, workshops and coaching are for educational purposes only and are not a guarantee or promise of employment. Thank you for being here!