---
ESPECIALLY FOR THE BEGINNING ACTOR
My Actor Guide is specifically for the NEW actor. We give you the information and resources you need to get your acting career going! It doesn't matter how old you are, or what stage of life you are at, we are always happy to help! We point you to the resources and the and the next best steps for your career RIGHT NOW.
You get the advice and guidance you're looking for to save you time and money and help you become the real pro you know you can be. It's the stuff you wish your agent or manager had time for…. your own personal mentor or super smart best friend in the biz!
This is called SHOW Business for a reason! So let's have a little fun and a lot of SHOW!
---
And then there's me….
My Actor Guide,

by Hunter Phoenix



Hunter loves to help new performers and people looking to break into the biz, as well as seasoned actors who want to up-level their career or deepen their craft. She has been coaching actors since 2008 and has a unique combination of experience and training to help you launch your career and create work that stands out to casting directors & agents and to make self-tapes that shine above the rest.
She has spent more than 20 years working in the entertainment industry in 8 countries. This includes modeling, commercials & print work in Athens & Istanbul, acting in Toronto & London, UK, and even screen writing, before diving into the big market of Los Angeles that she now calls home.
With 10 years of vocal training (primarily spoken level voice & breath work for actors) voiceovers has also been a big part of her career, recording voices on more than 400 projects to date.
Hunter's love for the craft brought her to study in NYC with legendary acting coach Uta Hagen: a process that transformed her approach and led her to such roles as Blanche in Streetcar Named Desire and Karen in David Mamet's iconic Hollywood satire, Speed The Plow. She has also appeared on screen in The Bandit Hound II with Lou Ferrigno, Paul Sorvino & Catherine Bell & on TV in Mutant X, Doc, Singles Court, PSI Factor: Chronicles of the Paranormal and has hosted for HGTV. Currently she is voicing 5 characters (English language dubbing) on the mega hit TV series Babylon Berlin.
---
Professional Sites
---
Let's Work Together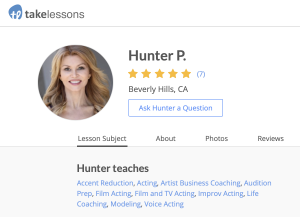 Prefer to take lesson online? You can also connect with me on TakeLessons.com
---
---