I'm so glad you're here!
Now, let me tell you a little bit about
Me + My Actor Guide + You
My Actor Guide ignites the ambitious spark in actors, helping aspiring actors to turn their creative passion into a successful career and/or business.
My Actor Guide is a media information company that educates, inspires and guidesaspiring actors with courageous spirits . The "MAG Actor" uses creativity and a lets-go-for-this attitude in all aspects of their life: To take charge of their career, forge strong professional friendships and relationships, curate their own personal brand + style, plan and prepared for their future, and create lasting success. Through our online content and products, we enable them to use expertise and creativity to shape the future of their dreams.
Founded in 2019 by me, Hunter Phoenix, My Actor Guide was originally just an idea and a feeling. It wasn't until 2020 that it began to take shape and take off. It has become one of the largest digital media companies for aspiring actors in the United States and is quickly garnering an international following. My Actor Guide now reaches an engaged community of over 100,000 actors online and across platforms, producing new content every month to keep up with everything our audience wants and needs.
---
Resources for Aspiring Actors!
My Actor Guide is here to…..
Educate
Learn new skills and industry "how-to" with write-ups on Auditions, Headshots, Resumes and more. They'll help take you from beginner to all-star in record time.
Inspire
Explore inventive ways to pursue your passion, and launch the creative career of your dreams – from motivation to mindset to marketing. All the tips and tricks you need to know are here!
Guide
I believe there are countless ways to thrive as a creative professional…. if you just knew where to begin or even what's next. Get the direction and support you're craving to take the next steps and make your mark as an actor.
Encourage
I get it – it can be hard to bravely step into the unknown and sometimes just to keep going. I want to encourage all actors to get the tools, the resources, skills and support they need to fully embrace their potential as a creative professional.
I'm so excited to be part of any actor's personal journey to finding a more informed, inspired and empowered creative self. I hope you'll join My Actor Guide along the way!
---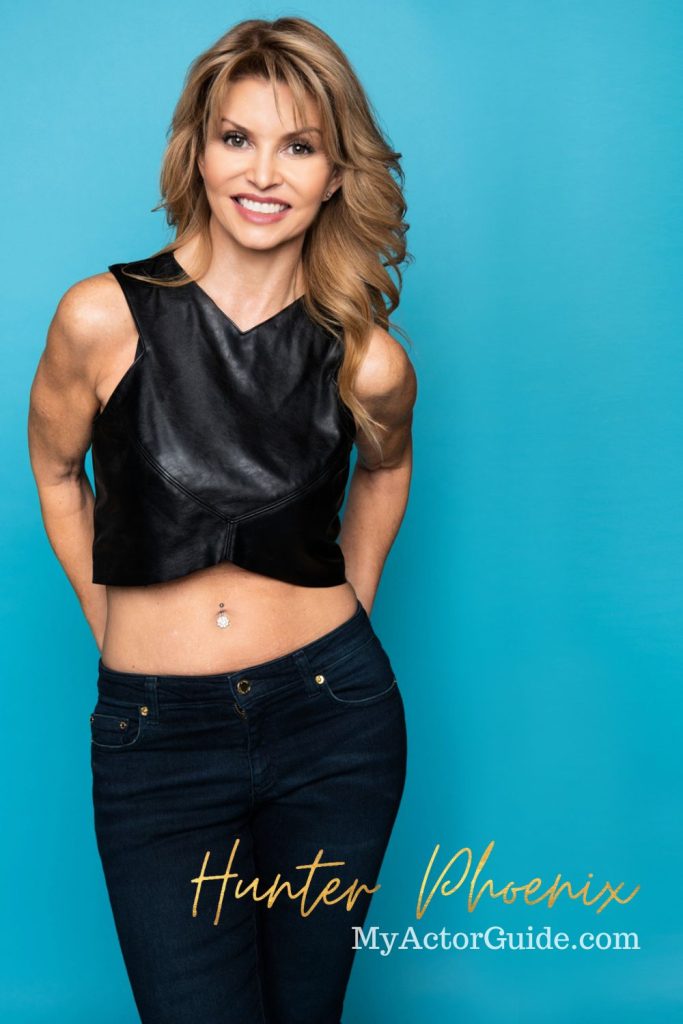 Hi, I'm Hunter Phoenix
I'm the founder of My Actor Guide. I'm a career actress, model and voice over artist with 20+ years experience in 8 different countries. And I have a passion for all things acting + entertainment industry … almost all of it!
I remember wanting to try the whole "acting thing" as a career and just not having any idea where to begin; no training, no experience, no agent, or family in the industry – but…..
I created an acting career from scratch! You can too.
Every age, every nationality, every size, every level of experience.
My mission is to help you unlock your creativity and courage to try acting as a new career or to fully pursue this dream and passion on a path that you have already started on.
Let Me + My Actor Guide help you with the how. 
---
Training + Career
My training started off with classics; first theatre, drama school and about 10 years of vocal training, primarily Spoken Level Voice / Kristen Linklater Technique and breath work specific for actors, as well a regionally specific dialect studies.
My love for the craft took me to NYC to study with legendary acting coach Uta Hagen: a process that literally changed my life and transformed my entire approach to acting. It also led to roles on-stage like Blanche in Streetcar Named Desire and Karen in David Mamet's iconic Hollywood satire, Speed The Plow.
On-camera I've shot dozens of commercials, music videos, industrials and informercials. (Hey… don't judge the paycheck! We all gotta eat!) Check out my cameo in Millie Cyrus's music video "Mother's Daughter" here. My most recent project is Lifetime TV movie, A Jealous Friendship set for release in early 2022.
I've also appeared on-screen in both European and American feature films such as Master of Pulpits, now available on Amazon, The Bandit Hound IIwith Lou Ferrigno, Paul Sorvino & Catherine Bell & on TV in Mutant X, Doc, Singles Court, PSI Factor: Chronicles of the Paranormal and have hosted for HGTV.
for voice overs (if we ever get out of pandemic-mode) I'm voicing 5 characters (English language dubbing) on the mega hit TV series Babylon Berlin….. two seasons done and third one on the way!
In 2019 I was lucky enough to book an indie pilot, that has been featured at NINE film festivals to date and just won an award for "Best Pilot". You can read more about that here!
Get the full scoop at HunterPhoenix.tv on IMDB.me/HunterPhoenix and VoiceOversByHunter.com
---
For more on my personal journey read…..
---