This post may contain affiliate links, so I may receive a commission, at no cost to you, if you make a purchase through a link. Check out the disclosure  for more info. And thank you for supporting free content!
* PHOTOGRAPHERS! Want to be added click here.
ACTORS: Check out these lists if you need
headshots in LA or NYC?
---
Actors Headshots: Best Headshot Photographers in Atlanta, GA
Shooting your first headshot can be intimidating. There is so much to think about and they are expensive, so you want to get them right!
I have compiled a list of the top Atlanta headshot photographers because I know that finding the right photographer can be daunting and time consuming.
You want the best headshot you can get, and you also want to shoot with a photographer that is going to be right for you and your career right now.
Over the course of my career I've shot with dozens of photographers across North America and Europe, changing my headshots when my looks changed, branding or to suit the current market.
Every actor is unique, just like the photographers listed below. Here are some of the top headshot photographers in Atlanta, GA.
QUICK TIPS and FAQ
"Commercial" is just like it sounds, meant for commercials. Shots tent to feature brighter colors and patterns, and be brightly lit.
"Theatrical" means film and television in industry lingo and tends to be more dramatic and often a little darker shots. These should really convey depth and character
FOR WOMEN: You will absolutely need someone to do you make-up and light hair styling. Unless you are very experienced in film and television photography I wouldn't recommend doing this yourself, so there is an added expense. The current going rate is $150 – $175. I know, it sucks, but it's really a must!
FOR MEN: Having hair and light make-up done is a real game changer. There's not an actor on the planet who steps in front of a camera without having this done. The cost is a little bit less for men, usually around $125.
---
---
Find a Great Headshot Photographer in Atlanta!
AG Picture
Beautiful bright headshots and editorial feeling shots. Very clear for branded looks.
Starting at: prices not listed
Amanda Maehlein
Great shots but seems better suited to editorial and corporate photography.
Starting at: $175
Bill Adler Photography
More suited to corporate shots and editorial than actors headshots.
Starting at: prices not listed
Brian Jones Photography
Beautiful, portrait-style dramatic shots. Excellent choice for any actor!
Starting at: $325
Buckhead Studio Photography
Corporate headshots only. Not suited to actors.
Starting at: $195
Catherine Dyer Photographer
Fresh, friendly actors headshots. Suited to commercial or dramatic. Great choice for a new actor!
Starting at: $195
Chase Anderson Photo
Approachable editorial-style headshots. Best for the actor looking for something a little outside the box.
Starting at: $350
Christian Webb Photography
Beautiful portrait style headshots. Also shoots less polished looking pics for extras. Also shoots in NYC.
Starting at: $600
CK Headshots Atlanta
High quality, professional actor headshots. Suited to commercial or dramatic. Great choice for a new actor!
Starting at: $175
Daniel Parvis Photography
Love these shots! Personality + professional quality. Commercial and dramatic shots.
Starting at: prices not listed
David & Jess Photography and Headshots ATL
Bright, clean, professional headshots at a very affordable price for new actors.
Starting at: $99
Hollywood Headshots
Great starter choice! Clean, friendly, commercial shots and lots of kids.
Starting at: $125
JK Images
Classic professional actors headshots. Darker overall and more of a portrait feel. Good for dramatic shots.
Starting at: $275
Josh Stringer
Beautiful commercial, editorial and corporate shots. Friendly and real yet polished.
Starting at: $295
Kenji Kubota
Clean and bright shots great for commercials. Tends to shoot a lot on black, white or gray backdrops. Also great fro corporate shots
Starting at: $250
Leah Roth Photography
Shoots actors, model and dancers and notably a lot of kids. Great for starter shots.
Starting at: prices not listed
Marcigliano Photography
Beautiful portrait style shots. Would work really well for actors promo shots as well.
Starting at: $295
---
---
Matthew Druin
Does a lot of weddings and corporate style headshots. I didn't find anything terrific for actor headshots.
Starting at: prices not listed
Megan Dougherty Headshot Photography
Great for commercial headshots, kids headshots and specialty-type shots for very specific promo.
Starting at: $295
Mike Glatzer Photography
Bright, clean commercial shots. Also does seniors, portraits and some branding.
Starting at: $200
Nice Shot Ted
Great starter shots for new actors. Commercial style shots that are clean and bright.
Starting at: prices not listed
Nicole Tyler
Shots have more of a lifestyle feel. Seems better for promo and business.
Starting at: $250
Nina Parker Photography
Heavy leaning towards corporate shots. Would be a good choice if the roles you are going after are business oriented.
Starting at: $100
Robert Mitchel Owenby Photography
VHeadshots ranging in style from theatrical and commercial to personal branding and corporate, including individualized expression coaching
Starting at: $225
Smith Shot Photography
Very natural looking, not over-processed shots. Great choice for new actors!
Starting at: $110
Stacey Bode Photography
Does a variety of types offshoots including family and wedding. Very natural looking shots. Good for new actors.
Starting at: $275
Steve Glass Photographer
The acting headshots are very clean and simple. Good choice for new actors.
Starting at: $150
Tanya Young
Also does lifestyle and maternity and shoots a lot of kids. Headshots are beautiful and have a portrait feel.
Starting at: $350
The Actor Headshot
"Captures engaging images and real emotion in a fun, comfortable studio space. Great at crafting specific looks to showcase your range and marketability."
Starting at: $275
Tracy Bosworth Page
Very crisp, clean and bright shots. Depending on the background, would work well for commercial or dramatic.
Starting at: prices not listed
Here are some tips to remember when choosing a photographer:
Find a photographer you'll be comfortable shooting with and shoots people who look like YOU. Many photographers today will offer a quick Zoom consult. This is a good tome to get a feel for the person, their style and to see if you're a good fit to work together. It's also way more comfortable than meeting them for the first time on the day of your shoot. To get great headshots, you've absolutely got to be comfortable with your photographer!
Look very carefully at their website and portfolio. You can tell a lot from the look and feel of someone's website. Do you instantly love their work? Does it go well with your style and brand? Or do you see actor headshots in their portfolio that you really don't like? If that's the case, even if a fantastic actor, agent or coach recommended them, they probably aren't going to work well for you.
Pricing. I've listed the last posted starting prices here, but be sure to look at all of the pricing options. Maybe you need 2 looks or three? What is going to work for you right now. Be clear on how many looks and photos you get as well as the cost of retouching…. And yes, everything will need to be retouched and color corrected at least a little!
Don't be afraid to ask questions. Some suggestion are:
How many changes does this include
How many shots will I get to chose from?
Do I get high resolution shots?
When will I get the proof and how do I view them.
How much for hair and make-up?
How many changes of clothes should I bring in total?
What colors or patterns should I avoid?
How much is retouching?
Los Angeles has some of the best headshot photographers in the biz! Check them out and find the headshot photographer who is perfect for you.
---
---
Check out these lists if you need headshots in LA or NYC
* Photographers who want to be added click here.
Like this post or love it? Tweet it. Post it. Pin it. Share it with actor friends!
It's a tough business and we could all use a little help!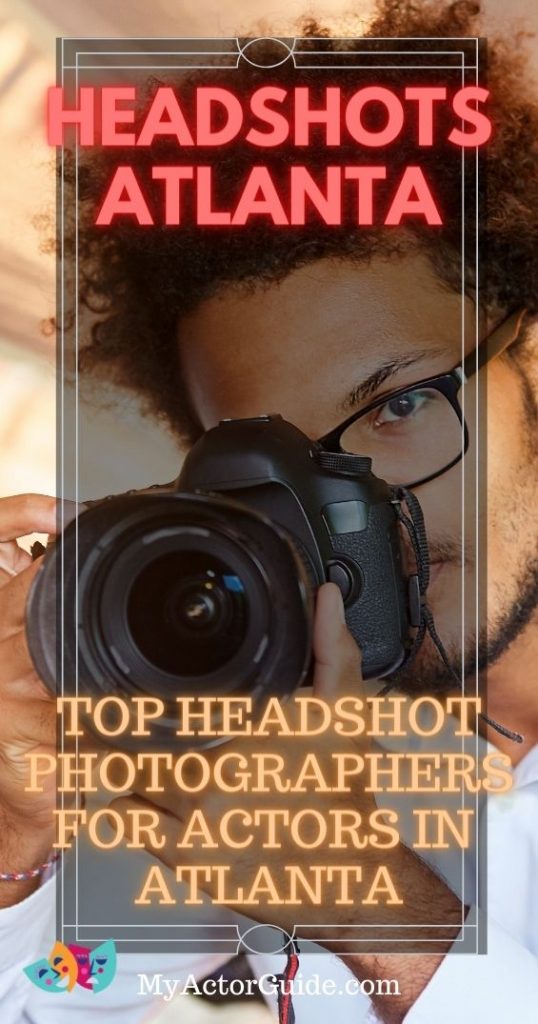 * Please Note:  I am not an agent, manager, or casting director. I do not procure work for actors. All information, workshops and coaching are for educational purposes only and are not a guarantee or promise of employment. Thank you for being here!