This post may contain affiliate links, so I may receive a commission, at no cost to you, if you make a purchase through a link. Check out the disclosure  for more info. And thank you for supporting free content!
➤ PHOTOGRAPHERS! Want to be added to the list? click here.
ACTORS: Check out these lists if you need
headshots in New York or Atlanta!
---
Actors Headshots: Best Headshot Photographers in Los Angeles
Shooting your first headshot can be intimidating. There is so much to think about and they are expensive, so you want to get them right!
I have compiled a list of the top L.A. headshot photographers because I know that finding the right photographer can be daunting and time consuming.
You want the best headshot you can get, and you also want to shoot with a photographer that is going to be right for you and your career right now.
Over the course of my career I've shot with dozens of photographers across North America and Europe, changing my headshots when my looks changed, branding or to suit the current market.
Every actor is unique, just like the photographers listed below. Here are some of the top headshot photographers in LA.
QUICK TIPS and FAQ
"Commercial" is just like it sounds, meant for commercials. Shots tent to feature brighter colors and patterns, and be brightly lit.
"Theatrical" means film and television in industry lingo and tends to be more dramatic and often a little darker shots. These should really convey depth and character
FOR WOMEN: You will absolutely need someone to do you make-up and light hair styling. Unless you are very experienced in film and television photography I wouldn't recommend doing this yourself, so there is an added expense. The current going rate is $150 – $175. I know, it sucks, but it's really a must!
FOR MEN: Having hair and light make-up done is a real game changer. There's not an actor on the planet who steps in front of a camera without having this done. The cost is a little bit less for men, usually around $125.
---
---
Find a Great Headshot Photographer in Los Angeles!
NEW!! January 01, 2022
MT Photography
Michael Tari is my new fav! Just shot with him and he is brilliant! A few things make him so special …. 1. Has an unmistakable passion for photography 2. Is a genius with lighting 3. Really wants youth have a good time shooting and to be happy with your shots! I got some gorgeous pics… will post a link as soon as they are up online. Would HIGHLY recommend for any actor, new or experienced, young or old.
Starting at: $125
---

The Headshot Truck
One of my top choices for new actors! Easy to work with, friendly and helpful. Bright fun commercial shots. The trucks use to come to you, but due to Covid they are currently shooting in North Hollywood studio only.
Starting at $49 /month or $139 /look
Get a 10% Discount when you book! Code: MYACTORGUIDE10
---
---

Actor Photo LA
Only shooting outdoors. Doesn't seem to use much color. Good for young actors.
Starting at: $69

Budget Headshots
Great for commercial shots! Perfect for new actors.
Starting at: $125

Headshots Only, Ken Wood
Great for commercial shots! Perfect for new actors.
Starting at: $120

Headshot Shop LA
Bright, clean shots. Perfect for commercials and characters.
Starting at: $150

Alisa Banks
Good for dramatic shots, a little dark for commercial
Starting at: no prices listed

Anthony Mongiello Photography
Good for dramatic shots, a little dark for commercial
Starting at: $250

Bella Saville
Bright, colorful shots, with great character looks. Perfect for commercials.
Starting at: $299

Brad Buckman
Both commercial and dramatic
Starting at: $450

Bradford Rogne
Bright, friendly shots. Leaning a little more towards commercial
Starting at: $250

Cathryn Farnsworth
Natural, warm and friendly shots. Great photographer for kids headshots. * I know a couple of actors who have shot with Cathryn and love her! The shot I saw were beautiful and relaxed and really delivered the essence of the person.
Starting at: $550

Chris Evan Photography
Really beautiful promotional shots. Also kids headshots.
Starting at: no prices listed

Dana Patrick
Beautiful headshots. Better for promo rather than casting. Recommended for experienced actors who know their branding.
Starting at: $690

David La Porte
Beautiful, clear headshots. Recommended more for men than women.
Starting at: no prices listed

David Muller Photography
Tends to do more glamour shots and bright commercial shots.
Starting at $345

Dylan Patrick
Beautiful, cinematic shots. Better for experienced actors.
Flat Rate: $450

James Depietro
In my opinion, James is the go to headshot photographer for working actors in Los Angles right now! Having said that, he specializes in theatrical shots; dark, edgy and dramatic. He also does publicity shots and portrait. Amazing photographer but not the best choice for commercial shots or new actors.
Starting at: $700

Jessica Sherman Headshots
Super fun commercial shots as well as character shots for actor
Starting at: no prices listed
---
---
Ken Weingart Photography
Great natural looking headshots. Striking eye-contact.
Starting at: $300
Kenneth Dolin
More beautiful shots. Perfect for actors with a few years experience
Starting at: $500

LA PhotoSpot / Todd Tyler
Pretty, warm, soft photos – lovely pics for women.
Starting at $225

Laura Burke
Good commercial shots. Variety of looks
Starting at: $325

Lionfly Studios
Also shoots demo reels. Good for simple, uncluttered dramatic shots
Starting at: $199

Marc Cartwright Headshots
Bright, clean shots. More of a commercial feel
Starting at: no price listed

Marisa Q Photography
Does a great job separating commercial and theatrical. Has good packages for new to mid-level actors.
Starting at: $395

Matt Hotsinpiller Photography
Great for dramatic shots
Starting at: $350

Michael Hiller
Good for commercial shots
Starting at: $250

Michael Roud Photography
Commercial, editorial and modeling shots. Better for models and fitness
Starting at: $550

Molly Pan Photography
Clear beautiful shots with a wide range of styles.
Starting at: no price listed

Monesson Photography / Josh Monesson
Good lifestyle photographer and starter headshots for actors. Shoots primarily outdoors.
Starting at: $95

Paul Gregory Headshots
Wide variety of shots for men, women, kids and editorial.
Starting at: $545

Sergio Garcia
Great commercial shots!
Starting at: $500

Sosa Headshots
Good clean commercial shots.
Starting at: no price listed

Stepanyan Photography / Seda Stepanyan
Good for new actors! Leans more towards dark serious shots. great for corporate headshots as well.
Starting at: $300

Stephanie Girard
Fun, vibrant shots! Mixed commercial and theatrical. *I haven't shot with Stephanie yet, but she is definitely on my list!
Starting at: $550

Studio Roy
Sophisticated, honest, intimate headshots by a celebrity photographer, best suited for working actors.
Starting at: $550

The Light Committee
Great for actors wanting well-rounded portfolios, with clearly defined looks like with commercial to theatrical looks
Starting at: $179

Vanie Poyey
Only for extremely experienced character actors or actors wanting to break into character roles. Vanie shoots HER brand, not yours, and will not budge on this, so make sure you want to look exactly like the people in her existing shots.
Starting at: $900
---
Here are some tips to remember when choosing a photographer:
Find a photographer you'll be comfortable shooting with and shoots people who look like YOU. Many photographers today will offer a quick Zoom consult. This is a good tome to get a feel for the person, their style and to see if you're a good fit to work together. It's also way more comfortable than meeting them for the first time on the day of your shoot. To get great headshots, you've absolutely got to be comfortable with your photographer!
Look very carefully at their website and portfolio. You can tell a lot from the look and feel of someone's website. Do you instantly love their work? Does it go well with your style and brand? Or do you see actor headshots in their portfolio that you really don't like? If that's the case, even if a fantastic actor, agent or coach recommended them, they probably aren't going to work well for you.
Pricing. I've listed the last posted starting prices here, but be sure to look at all of the pricing options. Maybe you need 2 looks or three? What is going to work for you right now. Be clear on how many looks and photos you get as well as the cost of retouching…. And yes, everything will need to be retouched and color corrected at least a little!
Don't be afraid to ask questions. Some suggestion are:
How many changes does this include
How many shots will I get to chose from?
Do I get high resolution shots?
When will I get the proof and how do I view them.
How much for hair and make-up?
How many changes of clothes should I bring in total?
What colors or patterns should I avoid?
How much is retouching?
Los Angeles has some of the best headshot photographers in the biz! Check them out and find the headshot photographer who is perfect for you.
---
---
Check out these lists if you need headshots in New York or Atlanta!
Photographers who wish to be added to the list click here.
Like this post or love it? Tweet it. Post it. Pin it. Share it with actor friends!
It's a tough business and we could all use a little help!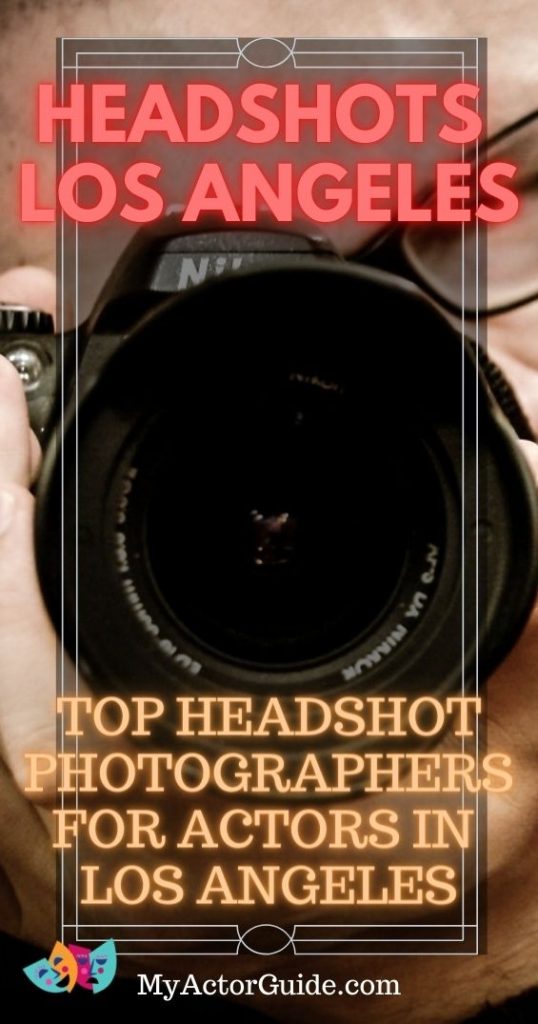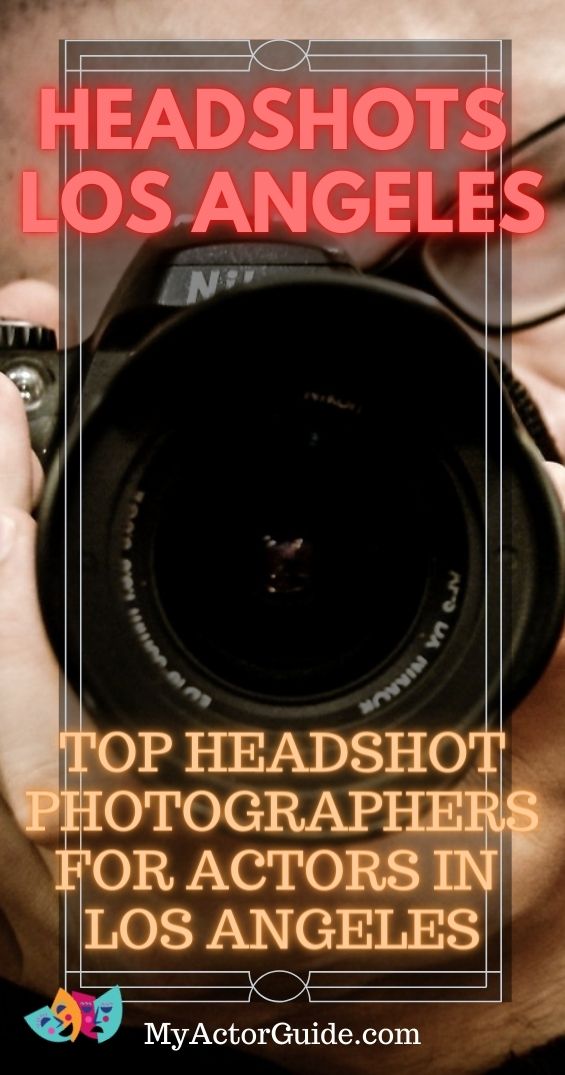 * Please Note:  I am not an agent, manager, or casting director. I do not procure work for actors. All information, workshops and coaching are for educational purposes only and are not a guarantee or promise of employment. Thank you for being here!