This post may contain affiliate links, so I may receive a commission, at no cost to you, if you make a purchase through a link. Check out the disclosure  for more info. And thank you for supporting free content!
For an actor, your resume and your headshot are the two essential tools you need to get going and start looking for work in the business. These are basically what gets you in the door with casting directors to do that oh so important audition and maybe book the job.
Your resume is a compilation of critical data; it contains your physical stats, work experience, training, classes your workshops you've taken, and something called "special skills" – and of course your contact info. There are a number of different customized templates for resumes, but there is a general industry format that you should observe and follow if you want to to be taken seriously.
When you're first starting out, the whole resume thing can seem a little daunting… I mean what are you going to put on it? But keep in mind, we were all beginners at some point and you really just have to get started.
Here are some tips for how to format your resume as a beginner or new actor and keep it looking polished and professional.
The Basics: The hard and fast no-break rules
Your resume should always be on one page
Personal info – name, physical stats and contact info on the top
If you have an agent or other rep, be sure to put their contact information and /or your personal contact info
For repped actors you'll probably want to put your agent's or manager's logo on the top left as well
If you are a member of a performers' union include that, if you are non-union no need to mention it
If you sing, you should include your vocal type too
Use standard fonts only – no crazy fonts! Times New Roman or Arial are perfect
Black and white works best
Keep it clean, organized, well laid out and easy to read
Don't lie! Seriously. At some point you're going to get caught. This is a smaller business than you might think and someone working on this project may have worked on the one you said you worked on. Getting caught lying is just embarrassing and a little hard to recover from.
You can have your resume printed on the back of your headshot, but then you can't update it if you book a job. Consider sticking to 8 x 10 paper if you need to print one at all.
If printed (vs. digital)
Plain white paper only, no colors or textures
It has to fit neatly on the back of your resume, so use 8×10 paper – I know it's a bit of a pain but you can buy it pre-cut here
Maybe put a small thumbnail headshot at the top in case the resume becomes detached from the headshot
Contact Information
List your phone number, email address and website along with your agent's contact info. Don't put your address on your resume, and if you are using your personal phone number, just be mindful of where you're sending it!
Physical Stats
These include your height, weight, hair and eye color. Never put your age on your resume. If under 18 you can include age range i.e. "plays 11 – 14"
Personal note: I stopped putting my hair color on my resume – this is a throwback to when headshots use to be black and white (yes, really!) Anyone who looks at my photo knows exactly what color my hair is. Eyes can be a little tricky to tell so do include color there.
Union Affiliations
This includes SAG-AFTRA, Equity/AEA, ACTRA, BAFTA as well as a few other divisions of the above. If you're not a member of any particular union, just leave that part off. Some people put SAG-AFTRA Eligible if they are able to join the union. That's a personal decision and should be made with your reps.
Credits, Acting Experience, Training and Skills
Okay, now that we have the introduction out of the way, let's move on to what actually goes in the body of the resume. Your work experience or credits are broken down into categories: Film, Television, Theatre, Commercials, Voiceover, Shorts, New Media.
Experienced Actors will not put all of these on their resume, and will almost never include commercials and voiceover
New Actors: Since you won't have many credits yet, consider combining categories, such as Film & Television, Shorts & New Media
These sections you want to organize strategically, and maybe even have different resumes depending what you're going out for. If you're trying to book TV roles, don't put your theatre credits at the top, even if they were bigger roles.
FREE DOWNLOAD! GET THIS RESUME TEMPLATE NOW!!
---
Want More Resume Templates?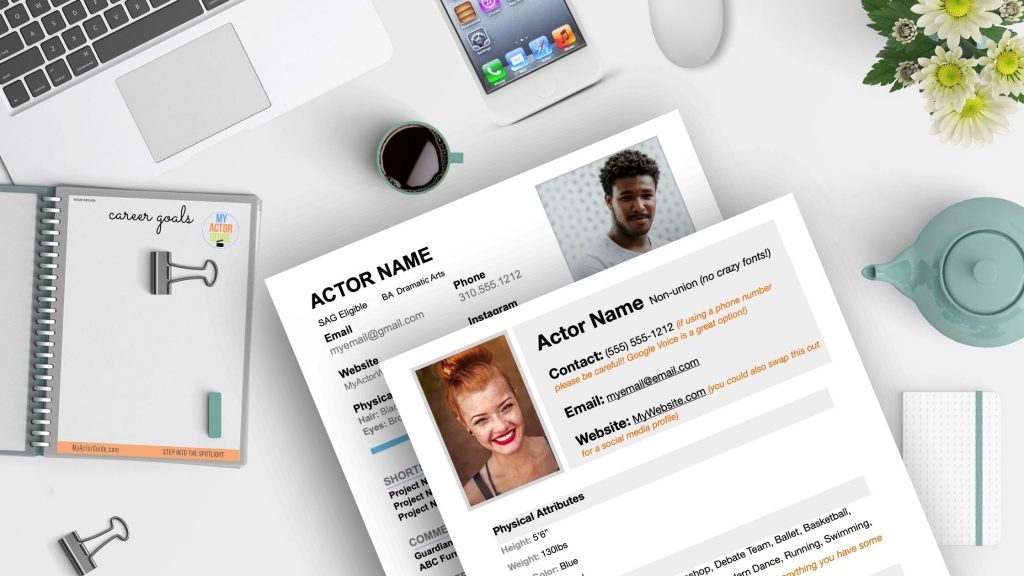 Grab one of these today and have a professional actor's resume in minutes!
---
Here are the main categories and what to include:
Film & Television: For this section, list the following: Name of the Production, the Type of Role (indicates size), Network or Production Company and the Director's Name
Shorts and New Media: There is so much of this being done today that it deserves it's own category, and is most likely where you'll start out as a new actor. The format for this is the same as above: Name of the Production, the Type of Role (indicates size), Network or Production Company and the Director's Name
Theatre: Under the theatre section, you'll list: Name of the Show, Your Role, Theatre Company and Location of the Production. You don't have to add the director's name unless it was a very large production and they're well known. And yes, listing Community Theater is totally fine, or school productions for younger actors.
Training & Education: Casting directors are interested in who you've studied with and what you've studied. Did you go to Yale Drama School? Have you taken Voice Lessons? What about Audition Techniques, Scene Study, Improv, Stage Combat, Firearm Training……? You see what I'm getting at…? Your training paints a picture of who you are as an actor, where your interest and aptitude lies and gives casting an idea of where your skillset is at right now. Acting classes and workshops are most often set up by Subject, Teacher (s) and Location.
*Note: you don't put the year or date on any of the above!
Special Skills: Last is Special Skills. This also helps to give casting an idea of who you are as a person, and just maybe you'll book a job because of something you do. (I booked a job a couple of years ago in part because I'm a certified scuba diver.) This is also where you would include any language, accents or dialects you are really super proficient in. If you do a cute British accent, don't put it here. There are a lot of British actors working in North America and they are simply going to get the job over an American, BUT, if you're parents are Italian and you grew up speaking Italian absolutely include it!
IMPORTANT! if you say you can do something you had better be darn sure you can do it – they will ask and may even test you before the audition!! I was talking to a casting director a couple of years ago who needed real divers, as in swimming. She had about 100 potential actress for the audition, so she rented out a commercial swimming pool and had them come out there, in in swimsuits to demonstrate diving abilities and audition – only about one third of the people who showed up could actually dive! Seriously, don't lie.
For New Actors: If you don't have anything to fill in these sections, then that is the first thing you have to take care of – do something, do anything. Take classes, take a workshop, do a play or work on a student film for free just to get the experience and credit. Even a few credits is better than submitting a blank page with just your name and contact info 🙂
There's nothing that demonstrates better than an example, so to make this easy for you, I'm including a Resume Template for FREE DOWNLOAD ….. really, completely free, no email sign-up, just click! It is in DOCX format (Microsoft Word) so you can easily open it on a Mac, PC or in Google docs.
I hope this really helps you! If it did, share it, post it, pin it, tweet it! Send the link to your actor friends and definitely share it on social media. It's a tough business and everyone could use a bit of help! Questions or feedback? Head to the comments section below and I'll be sure to answer.
Have fun and break a leg out there! 🙂 Hunter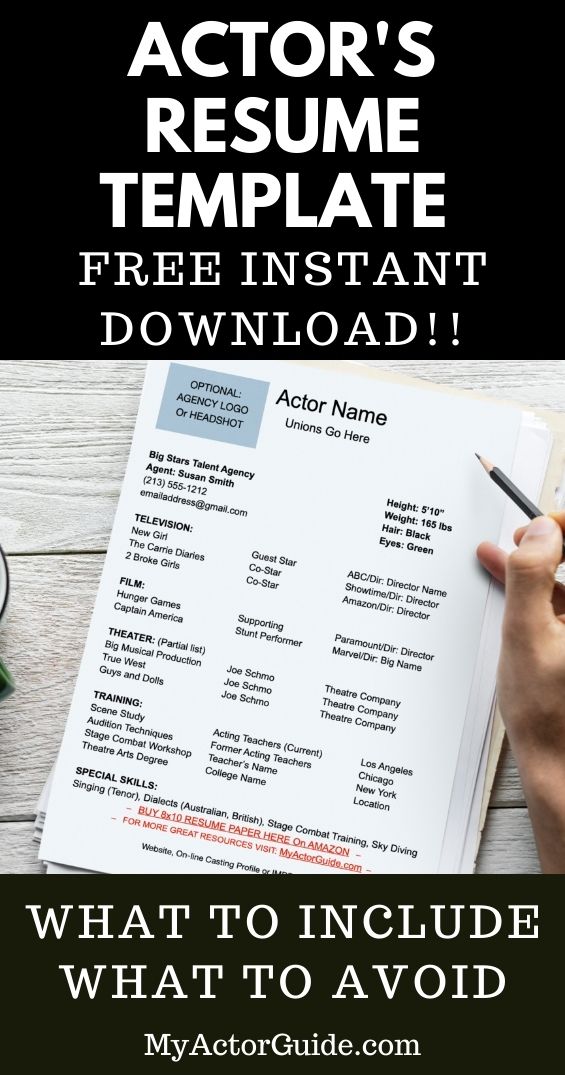 FREE DOWNLOAD! GET THIS RESUME TEMPLATE NOW!!
Did you like this or love it? Was it helpful or useful? Be sure to pin it, post it, tweet it, share it! It's a tough business and we could all use a little help!
As always, questions, comments or feedback? Head to the comments section below….. I promise to answer every one!
* Please Note:  I am not an agent, manager, or casting director. I do not procure work for actors. All information, workshops and coaching are for educational purposes only and are not a guarantee or promise of employment. Thank you for being here!