This post may contain affiliate links, so I may receive a commission, at no cost to you, if you make a purchase through a link. Check out the disclosure  for more info. And thank you for supporting free content!
Let's start with why actors need to be on social media…..
It's no longer a question of whether social media is important or not for actors – it is. Like it or not, it's an essential marketing tool for your acting career. While it has been steadily growing in popularity over the last 5 years, the huge shift in the entertainment industry caused by the 2020 pandemic changed everything! Auditions, casting sessions and callbacks went exclusively online, and according to most casting directors that I talk to, will probably stay that way for a while.
Almost every casting director in the industry is now on social media on one platform or another, and the same with writers, directors and producers. And if the people you want to hire you are there, you'd better show up too!
In case you haven't heard this before, you have to think of your acting career like a business, and in a recent marketing study, 92 percent of businesses said that social media has helped increase exposure. Do you expect businesses you deal with to have social media accounts? I'm going to guess Yes. And the same thing is true for actors.
If you are not using social media, you're not only missing out on huge opportunities, but at this stage of the game you are highly disadvantaged. Even if you're not on social media, I can guarantee you that thousands of other actors are, and this is who you're competing with to get the auditions and book the jobs. And yes, I have booked jobs as a direct result of social media connections, particularly Facebook.
If writers, directors, producers and casting directors are putting time into their social media presence, they expect actors to show the same amount of professionalism and dedication. And we all want a look behind the scenes; people want to know a little bit more about you before they take the chance to book you or even bring you in for an audition.
---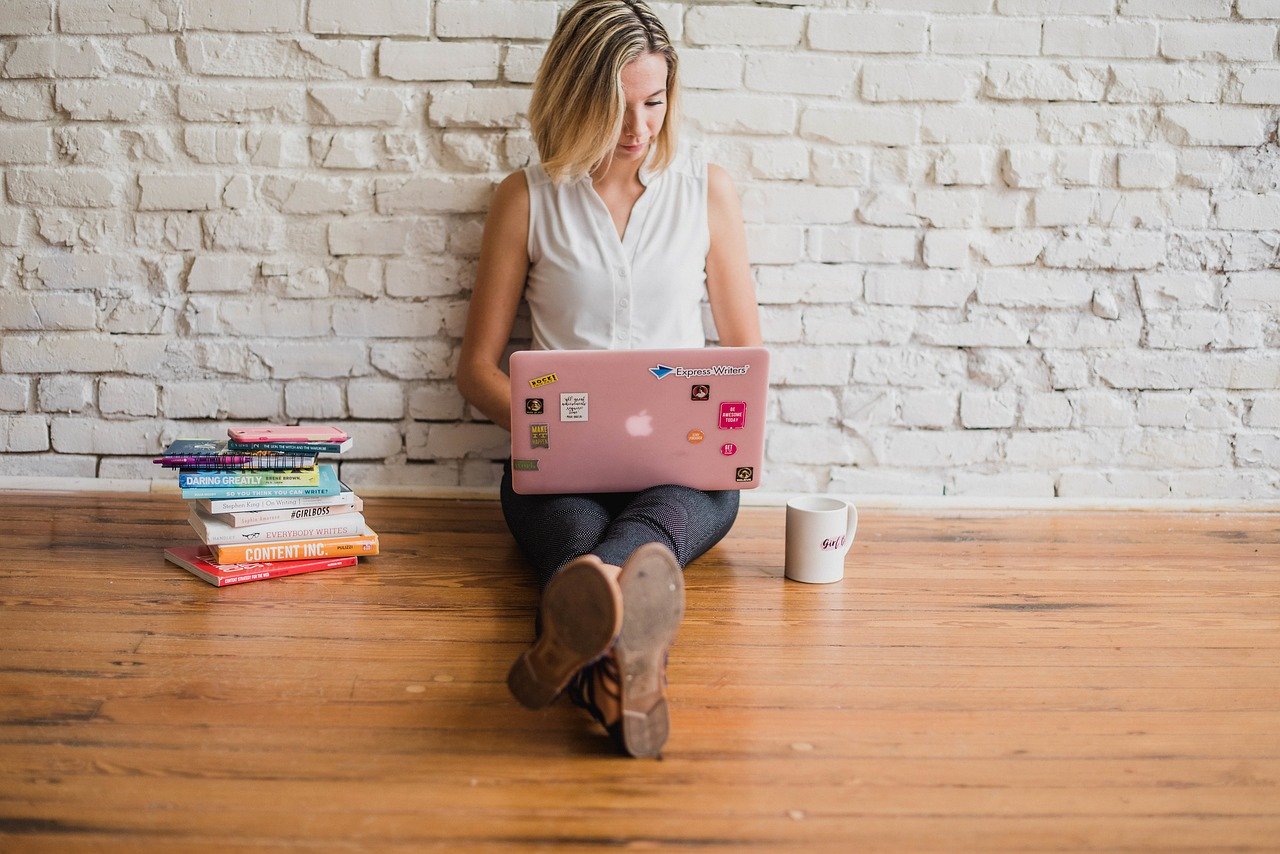 Yes, I have made invaluable career connections and booked work directly from Facebook! Read this to find out more!
---
Here are the 5 key steps for you to ace your social media profile and maximize connections.
Step 1: Secure Your Handle.
Start by securing your handle (@myname) across all of the major platforms. You probably have accounts on all of the major social media platforms that are important for actors: Facebook, Instagram, Twitter, YouTube and maybe even TikTok. If you don't, start now! At the very least secure your name / handle across the different sites. Yes, there are people out there who will scoop it from underneath you if you are an actor and then demand hundreds or thousands of dollars if you want to use it – not kidding! Ideally, you want to be able to get it the same everywhere if you can. This helps with branding and recognizability and just makes you easier to find.
Step 2: Friendly Profile Pic
Post a great profile picture. This can be your current headshot or another friendly shot where you look straight to camera. People tend to connect better with straight-to-camera shots and make sure it's well lit as well. Also, using the same shot across all profiles makes you a little easier to recognize when people go looking.
Step 3: Don't Waste the Bio!
Next is to write an interesting and useful bio… in under 200 characters! So many actors don't really utilize this space, and probably because we see celebs and well known actors using super short, quirky bios – they are already established, they can get away with it!
Until you hit it big time, this is what you should include:
What you do (actor, dancer, singer etc) + a fun fact!
Where you're based (city, country)
Who's your rep (in case someone wants to book you!)
Link to your IMDB profile
Keep your bio consistent across all platforms, and the link to your IMDB profile helps to score some extra traffic to that and boost your star ranking.
Step 4: Focus your Efforts
You might be wondering now, how do you manage so many accounts? And do you have to be active on all of them? Realistically, at least in the beginning, you just can't. Social media is time consuming. It requires a big investment of time and energy, not just to create consistent content, but also to engage with fans, followers and colleagues. But the good news is that you can be successful and make career-changing connections by narrowing it down to one or two of the most popular and most widely used platforms.
Figure out what you want to use social media for, and then decide which platform to focus the majority of your efforts on. Each one of the big platforms have distinct advantages.
Here are the fundamentals actors should know about each of the different big social media platforms and who uses what:
Facebook: This is an excellent place for connecting with other actors, getting advice and support, feedback on headshots and the latest scoop on classes. You can even find a self-tape partner. And it's surprisingly efficient for connecting with talent agents and managers. If you want to do it or know something about it, chances are there's a Facebook group for that!
---
---
Twitter
Almost everyone is on Twitter! Big name actors, writers, producers and a lot of casting directors. Following someone is easy enough and keeping up to date on their life, but it can be difficult to make personal connections. If you want to get on someone's radar, retweet, retweet, retweet! Remember, this is about building relationships. A word of caution: this platform has become highly political…. venture into those waters at your own risk!
Instagram
The pandemic has changed everything in this one! A lot of casting directors hang out on Instagram. They are posting daily, doing Instagram Lives, and yes, following actors! DON'T post on a CD's feed or comment on their post asking them for help or to follow you. DO engage authentically, like a real human being and like you would with anyone else you genuinely want to establish a rapport with.
LinkedIn
This is one of the most underutilized social platforms for actors. It ranks very high on search engine results so there's a pretty good chance that someone using Google will stumble upon your LinkedIn profile. You can add credits to your resume, add media and get recommendations. A lot of legit industry professionals – producers, writers, casting directors, talent reps, etc. are using LinkedIn so why wouldn't you?
YouTube
This one goes without saying. We are working ina visual and video medium… you gotta have a YouTube account. YouTube is the go-to place for posting your demo reels or clips, as well as audition videos and any original content you are creating. The biggest mistake actors make is not properly setting up their YouTube channel. Think about it… would you open a new store without putting your special touches inside or hanging a sign outside? Make sure you set up your channel and your profile completely including the 'About' section, channel art, social media links and watermarking your videos.
A Note about TikTok: As of today, July 2022, a lot of casting directors, agents, and other industry people still see TikTok as a joke. I know… annoying. But that's the deal. I personally think it can be invaluable to an actor's career, and in 1-2 years probably crucial! But there's still not a lot of industry acceptance of it.
---
Step 5: Get Going!
Be the most active on the main platform of your choice, and at first, focus on just one. Active means posting content regularly and engaging with people – at least 3x per week.
Not sure where to start? Here are some questions to ask yourself:
Where do the people hang out that you want to connect with first?
Which form of social media do you enjoy using the most? (Hint: you'll probably be the most consistent there)
What type of content do you like to create the most? Each platform has it's own style. Are you better at interacting on Facebook, tweeting, or creating awesome Instagram stories and feed?
Social media is an invaluable way to….
Connect with other actors to get advice and support
Reach out to talent agents and managers, to showcase your work and get repped.
Establish relationships with casting directors, directors, producers and showrunners and build long term industry relationships.
It's really all about figuring out which platform will connect you with the right people in a way that feels authentic and sustainable to you.
Personal note: Facebook Groups are an excellent place to start!! Industry peeps are very accessible here and LOTS of help, support and good info!
Above I gave you the 5 golden rules, but the platinum rule is "Show, don't tell!" Social media is not only visual, but industry people want to get to know you. And if you really want relationships show people that!
I love this quote from Richard "RB " Botto, the CEO of Stage 32,
"There's a currency on social media, and that currency is activity. It's putting your best foot forward and cultivating relationships."

Richard "RB" Botto, CEO of Stage32
Questions or comments? Post them below.
Be sure to connect with My Actor Guide on our social media accounts, @MyActorGuide on Facebook, Instagram, Twitter and Youtube
And also, me, Hunter Phoenix @HunterPhoenix.tv on Facebook, Instagram, Twitter and Youtube.
Like or love this article? Share it on social! Post it, pin it, tweet it, shout it out and share it with your actor friends. It's a tough business and we could all use a little help!
Questions or feedback? He'd to the comments section below… I answer every one!
Until next time, break a leg out there! xo Hunter
*This post was originally published in October 2020 and has been updated June 2021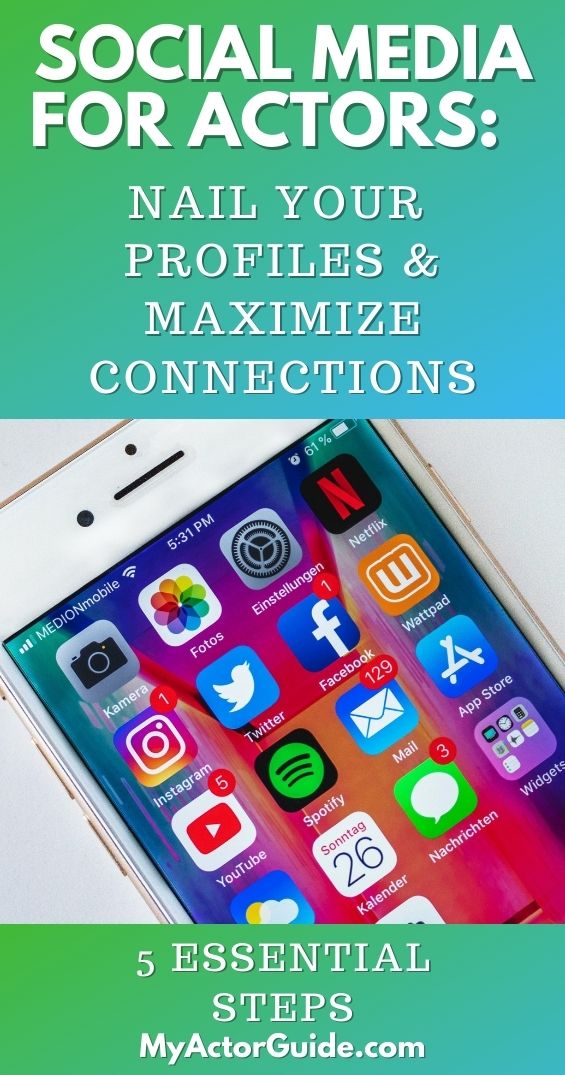 * Please Note:  I am not an agent, manager, or casting director. I do not procure work for actors. All information, workshops and coaching are for educational purposes only and are not a guarantee or promise of employment. Thank you for being here!