This post may contain affiliate links, so I may receive a commission, at no cost to you, if you make a purchase through a link. Check out the disclosure  for more info. And thank you for supporting free content!
If you're like most actors, the idea of marketing doesn't thrill you. When actors think about marketing, they usually see something similar to a used car salesman pestering people and begging for work, but that's just not the case. Marketing is partially your materials and partially relationships, and there are plenty of ways to improve and develop these while being authentic and even learning something and having fun.
Actor marketing is defining your brand and building relationships with people interested in that type of brand. It's really that simple.
If you want to book more acting gigs this year here are some quick and inexpensive ways you can up your actor marketing game.
1. Refine Your Headshots and Your Brand
Headshots are so crucial for actors and yet can be one of the trickiest things to get right. Your headshot should embody your brand – not the prettiest, most handsome most glamorous version of you, and not who you'd like to play, (as much as I'd love it, I doubt that anyone is going to call me anytime soon to reprise the role of Neytiri from Avatar😂) . And headshots aren't even the version of you who wanders around the house in pajamas at 2pm on a no-make-up-Sunday, but your best, most marketable brand.
This is certainly something I've struggled with personally, and I frequently ask people I trust how they see me and what actress they would compare me to for casting. The answer has surprised me many times.
Always go for the low-hanging fruit, meaning what type of roles could you most easily be cast for. If you choose a photo that doesn't authentically express your brand (guilty over here!) you are going to be wasting time with a lot of auditions that you don't book or not being called in at all.
Keep in mind, your type and your brand changes every couple of years. For more on getting clear on your brand and "actor type" read How To Find Your Type as an Actor
Money Saving Tip: Look over the proofs again before spending money on a new photo shoot. You may have something that works better! When you find that one great headshot, feature it on your website, IMDB, casting profiles, and on all of your social media accounts.
---
For more on resumes read:
---
2. Refresh Your Resume
Your actors resume isn't just about putting together a pretty list of your credit and training, it's about showing people how to cast you, and presenting yourself in the most favorable light. Hey! It's showbiz people, so let's have a little show! Again, the resume's job is to show people how to cast you, not to list every credit you've ever had since you were six. Take off any credits that aren't serving your current career goals or that are obviously out of your age range or type. Keep in mind, your pic and resume are often the first impression casting directors get of you and if either one looks unprofessional or messy, so do you.
And make sure you check for typos! Resumes can be tricky because there are a lot of names on there, as well as words and phrases that spellcheck may not be familiar with, so it's easy for small things to get missed. Absolutely double check the spelling of names! No one is going to be very happy if they see their name or that of a friend or colleague on your resume and it's misspelled. Be sure to update every copy – hard copy for auditions, PDF on your website, your IMDb, and any and all casting sites.
---
To get started with your website or super-charge the one you have, read:
---
3. Set Up Your Actor Website
Yes, as crazy as it seems, with all of the social media and online casting sites, actors are still expected to have a website. The advantage to this is having EVERYTHING, all of your marketing materials, social links and online casting links in one easy-peazy place. Your website should host the following:
Your…
Headshot
Resume
Bio
Demo Reel / Footage
IMDB link
Links to all casting sites
Links to all social media accounts
There are tons of great services were you can build a website for free so don't put this off ! It's part of being in the biz.
---
For more on how to set up your professional social media profiles see:
---
4. Punch Up Your Professional Social Media Accounts
Do your social media accounts look professional? Or do you have one too many pictures of your pets and a few party pics of that beer pong challenge last summer? Yes,I'm going to say it again, acting is a business, so your social media accounts, at least your professional ones, should reflect the business side of you and your acting career.
A few must haves:
Feature one headshot you use to consistently promote yourself across platforms
Make up professional, eye-catching social media headers
Rock your bio with compelling keywords and hashtags
While all of these make take just a bit of time to clean up, they don't cost anything and can really help you to use social media to your advantage
5. Track Your Auditions + Relationships
Are you keeping track of your auditions? If not, this is an absolute must! Use a Google sheet or an app to record your auditions. Details you should be tracking: Date, Time. Location, Casting Director, Project, Director / Producer etc. and last but not least Support Staff…. Assistants, sign-in people etc. Remember, marketing is about building and nurturing relationships.
Write a thank you note when you get home if you know the names of the people who were in the room or connect on social. If you're already tracking your auditions check in and see who's who; which casting directors are calling you in the most and what projects are they working on now or next? You don't need relationships with thousands of people to have a successful career, just start with your current fans.
6. Get to Know Other People in the Biz!
Although Covid has seriously put a damper on in-person get togethers, there are plenty of ways to network from home. Expand your online connections by joining Facebook Groups or a LinkedIn group that focuses on the industry…. And you don't have to limit yourself to actors. Facebook groups are one of my personal favs to get to know people fast, especially if you are new in town or making the move to a new market. I find actors to be very active in Facebook groups and willing to share their experiences + tips.
Marketing for actors is really all about presentation and connecting, and as actors that's what we excel at. Put you best face forward and get yourself out there!
Follow these tips to market yourself better. Do you have a great marketing idea or something that's really worked for you? Share it in the comments below!
Like this post or love it? Tweet it. Post it. Pin it. Share it with actor friends! It's a tough business and we could all use a little help!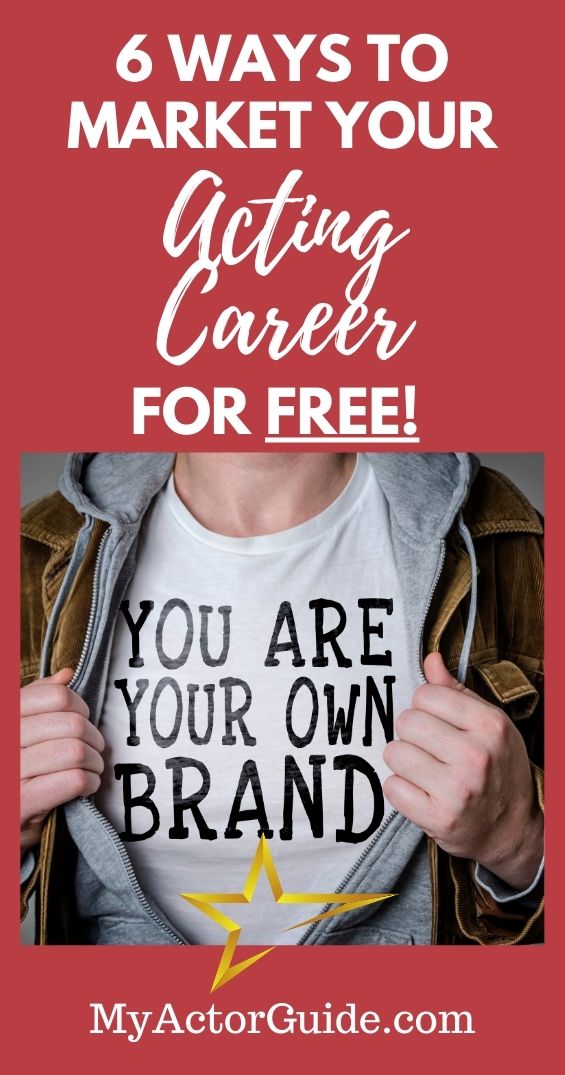 * Please Note:  I am not an agent, manager, or casting director. I do not procure work for actors. All information, workshops and coaching are for educational purposes only and are not a guarantee or promise of employment. Thank you for being here!