This post may contain affiliate links, so I may receive a commission, at no cost to you, if you make a purchase through a link. Check out the disclosure  for more info. And thank you for supporting free content!
You just found out that you got an audition for a role that you'd be perfect for or maybe it's a great next step for your career. This is the good news, and it's super exciting! But maybe you're a kind of new to the biz and a little nervous. You really want the part, but what do you do next?
Here are 9 simple steps to help you prepare for any acting audition.
1. Completely Read the Audition Material
First read through whatever materials you've been given; maybe this is just a scene or "the sides" as we say in the biz, or maybe even the full script. If it's the full script read through everything first, taking note of the storyline, other characters, and where you (your character) fits in to the big picture. If you're only given one scene, read through it a couple of times for information, don't just focus on your character.
Pay attention to…. What's going on? Who else is in the scene? What's your relationship is to them? Where is this taking place? How do you (your character) feel about this place, have you been there before and how would your character behave there? And where does the big shift occur? (also known as the arc)
If you're not given much information, and it's just one scene or maybe a few lines, don't sweat it! Work with what you've got and make up a story around a text if you have to – after all you're an actor, use your imagination!
Note: make-up a bit of a backstory if you have to, but always stay true to the script and the story. Remember… the script already has the job, you don't!
2. Do Some Research
If you're auditioning for a role in a TV show, take some time to sit down and watch a few episodes. Know who the main characters are, what the premise of the show is, where it's set, how the dialogue flows, and what the overall style is.
If your audition is for a TV commercial, check out other commercials for that brand, and YouTube of course can be a great source for this. Think about who the competitors might and watch their TV commercials as well so you have a clear idea of what the difference is, what to do and what to stay away from.
If you're auditioning for a movie or TV show that hasn't aired yet or maybe even had any material shot, do some research on the people involved, the writer, director and producers and try to get a feel for their work.
---
Need a little help memorizing long blocks of lines? Read this:
---
3. Run Your Lines Out Loud… Again and Again and Again
You need to get the words off the page and out of your mouth and living in the here and now. Run your lines again and again, and trust me you'll find something different every time. This will also help you memorize them, or as we say in the business "get off book" and that is something I would highly recommend for every audition as well.
If you're worried about over rehearsing….? Don't be. This is something I never hear in interviews from A-listers, who often talk about running their lines more than 100 times before actually shooting!
4. Rehearse With a Partner
If at all possible, rehearse with a live partner. I would highly recommend finding another actor for this, and not grabbing your spouse, your kid or another family member or neighbor. Although well-meaning, people who are not in the business don't really understand the audition process or the acting process and they may actually hurt your audition rather than improving it.
A couple of great resources for finding someone to read with are the Facebook group Rehearsal & Self-Tape Partners for Actors (free!) or WeAudition.com (paid)
5. Dress the Part, but Don't Go Full Costume
Assuming you know the look and feel of the project that you're auditioning for, go in looking like you belong on that set! Try to get a feel for what your character would wear, but full costume is not necessary and can often look amateurish.
---
Confidence is just part of the acting game.
Want to know what else helps? Read…
---
6. Confidence is Key
Confidence is probably the sexiest thing you can take with you into your audition. This absolutely does not mean cocky! But Casting is hoping that you're going to be an answer to their problem, and if you show up uncertain then how are they going to know that they can count on you on set when so many people are there and so much money is riding on it?
Be You. Let your personality shine through. Prepare well and walk into that room (or in front of the camera for a self-tap) like the professional you are. Be pleasant, make eye contact and watch your body language.
8. Expect a Non-Disclosure Agreement (NDA)
More and more these days we are seeing non-disclosure agreements. What does that mean? It means that you don't get to read the script or do the audition without signing a mini contract saying that you're not going to tell anyone one single word about it! And definitely don't Tweet it, TikTok it, Facebook it or Instagram it either!
9. Don't Build It Up To Be Larger than Life
It's just an audition, one audition. Out of hundreds or maybe even thousands during the course of your career. If those numbers sound daunting, they shouldn't, that's the reality of the business. Yes, absolutely prep and do your best but this is just one audition on one day. And keep in mind that this is all about working together and creating art! We're not doing brain surgery here and nobody's life depends on this, so go in as a creative and have fun!
Auditions definitely get easier as you go along, but they are weird situation no matter how you slice it. Yes, do the work. Yes, show up like a professional. But also cut yourself a little slack if it feels unnatural and uncomfortable – it is 🙂
---
Make sure you get it right every time!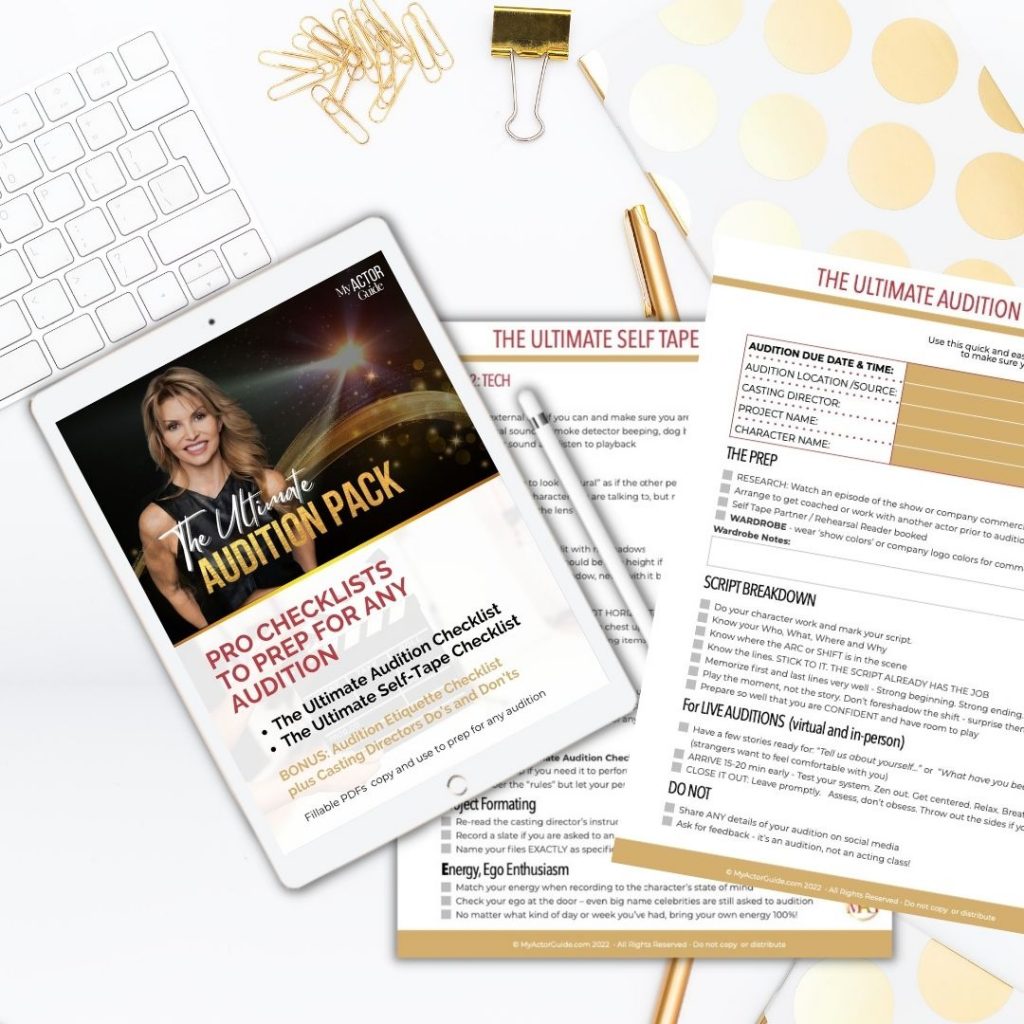 This is the perfect way to prep for any audition!
Get and stay organized and on-track. Prep and perform like a pro!
---
This post was originally posted May 6, 2020 and is updated regularly
Like this or love it? Be sure to share it, post it, pin it, tweet it!! It's a tough business and we could all use a little help!
* Please Note:  I am not an agent, manager, or casting director. I do not procure work for actors. All information, workshops and coaching are for educational purposes only and are not a guarantee or promise of employment. Thank you for being here!