This post may contain affiliate links, so I may receive a commission, at no cost to you, if you make a purchase through a link. Check out the disclosure  for more info. And thank you for supporting free content!
* This was originally published in April 2020 and has been updated and rewritten
If you're an actor waiting for your big break you've probably been pounding the pavement for years and the daily grind of showing up to a job that you don't love can leave you exhausted and uninspired for your creative pursuits. What if I told you that you can actually make money and feel good about what you're doing, and still have enough time and energy to pursue your acting goals?
Here are some of the most in-demand, part time jobs that you can do from home in 2020.
1. Sell Your Artwork or Creative Projects Online
Do you repurpose garage sale or flea market items? Maybe knit beautiful sweaters, paint, sculpt or sew clothing? Do you make pottery or ceramics? Most creative people have more than one creative outlet. Your beautiful hobby could be potentially become a lucrative side hustle and pay the bills while you pursue an acting career. Consider opening up a virtual shop on Etsy or even sell your items on Instagram.
2. Teach Something Online
The lockdowns of 2020 pushed online learning over the top! People started taking classes and doing private lessons online in record numbers. You can literally teach just about anything! Are you an awesome guitar player? Do you have musical theatre or singing training? Maybe you speak Spanish? These are all things that you can teach online.
There are several companies out there that offer video platforms / classrooms, and handle the marketing and payment, you just have to list your services. These are handy, but they tend to take really high commissions and have a going fee (TakeLessons takes a whopping 40% + a joint fee + charges the student a fee + charges you for an annual background check! Not teacher friendly.)
One of my favorite platforms to use for finding clients, and this saved me during the pandemic, is Lessons.com. You buy credits and pitch for jobs, but then have to handle all of the payments and Zoom details. I'm sure you're pretty Zoom savvy by this point, and Square, Venmo and PayPal work great for payments. (*Tip: ALWAYS take payment up front!) There are a few more, so be sure to do your research.
Some other popular online lessons are piano lessons, violin lessons … or any other musical instrument or language. I've even seen cooking and sewing lessons offered online. Get creative! I'm sure there is some special skill you have that someone else would really like to know.
3. Be a Customer Service Representative
Not feeling terribly entrepreneurial? Or just don't have the extra energy to chase down jobs? I get it! Customer service is a field where more and more companies are hiring people to work from home. Courier companies, car rental agencies and travel services do this frequently.
I have an actor friend who just got a full time customer service job with a brand he loves…. it's 100% email based, working from home and he loves it! He said it gives him the financial stability he needs while allowing him time to audition and pursue classes.
You can go the traditional job search route, or also check out agencies like LiveOps which will pair you up with companies that would match your skills and preferences.
4. Narrate Audiobooks
Why not put those acting and VoiceOver skills to work and narrate audiobooks? Audiobooks are a rapidly growing market for both publishers and voice actors alike. There is super hungry market for content and so many different genres of books, that publishers are always new voices to read. The key here is to know what genre you're going to specialize in… i.e. romance, young adult, thrillers, non-fiction business, children's books etc.
I was on a call with two audiobook producers from Penguin Random House just a couple of weeks ago, (October 2021) and they expressed just how desperately they need new readers all the time! Get your demos together, your home studio set up and get on their casting platform.
In addition to having a great voice and some acting chops, you also need a lot of patience as well as the ability to perform consistently, and of course standard at-home recording equipment. Read: How to Make Money Narrating Audiobooks and Microphones, Pre-Amps & Audio Files: What You Need to Know To Do Voiceovers to get an idea of how to get started.
---
---
5. Become an Online Language Tutor and/or Conversation Partner
This is one that I really love for actors, who often love to talk and connect with people and who tend to have great language skills. There are people all over the world, and I mean LOTS of people, who are eager to learn English or even practice speaking English with a native English speaker. This is a very cool way to connect with people of different cultures from all over the planet.
Again, you can check out websites like iTalki.com Wyzant.com or Preply.com who will pair you with people across the globe who want to learn English strictly online. And if you speak other languages fluently too, all the better.
6. Sell Your Unused Stuff
These days, there are endless ways to sell your old stuff online — and it can make you some serious cash. Go through shoes, clothing and handbags that you just don't use anymore or have fallen out of love with and turn them into real money.
For clothing and accessories and even jewelry, try Poshmark, ThreadUp or Tradesy.
Decluttr will buy your old cell phones, books, CDs, and more. And you might even have some luck on Facebook's Marketplace that has taken over from Craigslist in recent years due to the obvious transparency. (Yup! You can see someone's Facebook profile when they contact you!)
If run out of your own stuff to sell, try hitting the thrift stores and secondhand shops to find things to sell. I've known several people to make close to $1000 a month doing this alone.
7. Test Websites and Give Feedback
Yes, big companies don't go randomly launching new platforms. After careful design, websites often go through several phases of testing before going live, or even just after. Why not click through websites and get paid for it?
Some of the companies that do this are UserTesting.com, UserAnalytics.com and UserBrain.com. Sign up for an account with each of them and yes, one more way you can earn extra cash from your sofa.
---
---
8. Work as a Transcription Expert
If you're a super fast typist, and hint: many musicians are! (it's a manual dexterity thing) Why not transcribe videos, podcasts, tele-seminars or any other audio or video content Transcriptionists typically make $15-$20 per hour, and of course work completely from home.
Transcription is one of the most in-demand jobs online and ideal for people who want to work from home. There are many work-at-home companies which offer online transcription jobs.
9. Become a Social Media Manager
Maybe you are just killer good and crazy about Social Media…. people are willing to pay for this! Social Media Managers usually manage most, if not all of their clients' social media accounts, and may even tie in with other online marketing such as email marketing, SEO Writing or Blog Planning.
When starting out you can offer the basics, such as social media posting and scheduling. Once you have a little more experience, add on more tasks and tier your prices accordingly.
As with some of these other ideas, you can hustle the jobs on your own or try a job site such as Jooble.org or UpWork.com and pitch for jobs there.
10. Put Your Photoshop and Canva Skills to Work as a Graphic Designer
If you are really good at graphic design, and many creatives are, consider using this talent for something other than your own promo materials or online content. Again, this is something you can pitch to small, local businesses, and most of them will probably be grateful for the help.
Use tools like Photoshop, Canva, Adobe Spark and PicMonkey to create the materials needed for the jobs you get. You could also create your own specific designs and sell them online through sites such as Etsy or Creative Market that already have millions of daily buyers. Graphic design materials are in high demand by bloggers, influencers and other digital marketers.
There a so many ways to make money online today, these are just a few of my favs for the creative brain. I met one girl who makes $5000 a month just picking up creative gigs online.
Her Strategy:
Create complete profiles on 2-3 freelancer sites
Pitch to / submit to 10 jobs a day
Book 10 jobs per month at $500 each
Hustle hustle!
These are 10 of the most popular side hustles and part time jobs that you can do from home in 2022. They will stretch your creative skill, give you work flexibility and freedom, and are also in high demand!
Would love to see / hear any comments you have below. Have you tried any of the things above? Have a new suggestion? Which ones do you think are the best for you?
And don't forget to share this post with an actor friend who may need it too! It's a tough business and we could all use a little help!
Keep reaching for the stars and follow your dreams! xo Hunter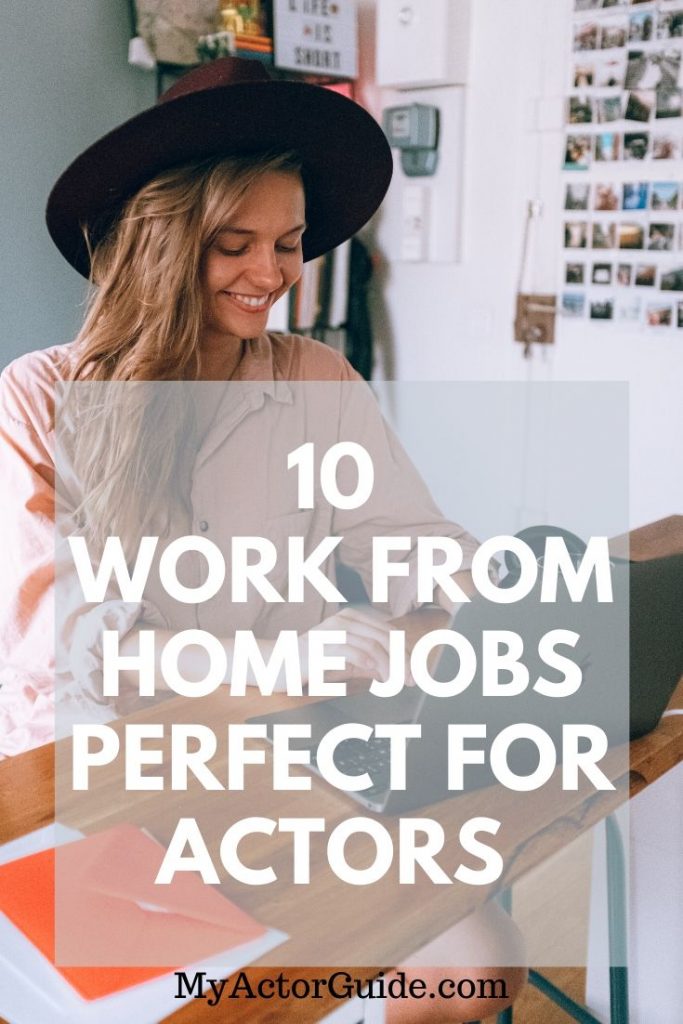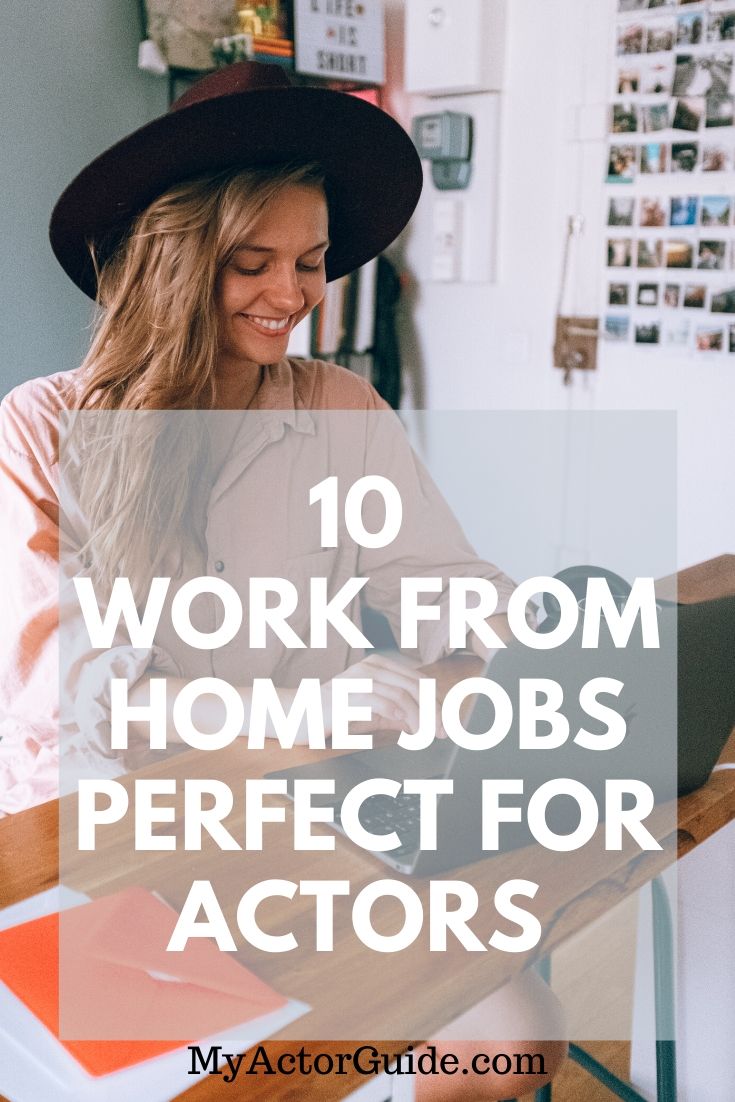 * Please Note:  I am not an agent, manager, or casting director. I do not procure work for actors. All information, workshops and coaching are for educational purposes only and are not a guarantee or promise of employment. Thank you for being here!