This post may contain affiliate links, so I may receive a commission, at no cost to you, if you make a purchase through a link. Check out the disclosure  for more info. And thank you for supporting free content!
Ever wonder who plays the corpse on your favorite crime show, or how they find jurors for the ensuing trial? And where do they get those big crowds when you have a scene at football game, concert or even a shopping mall? These people are Background Actors, commonly referred to as Extras. Chances are you don't pay much attention to the seemingly random customers in the bank commercial or the waiting room patients in Grey's Anatomy. This is largely due to the fact that a big part of a Background Actor's job description is simply to blend in.
Jump to…
What is a Background Actor or Extra?
A Background Actor is someone who performs in a nonspeaking role, usually in the background of a scene – hence the name. Having people in the background helps to make TV shows, movies, and other productions look and feel more real. Remember the eerie pictures of empty NYC streets in 2020? Nothing ever made a case more clear for just how absolutely essential background actors are!
In a typical shooting season, the big Background Casting agencies will book hundreds of Background Actors every day in shows like: She-Hulk, Anatomy of A Scandal, The Lincoln Lawyer, Good Girls, Cobra Kai, The Cleaning Lady, Killing It, 9-1-1 and more. For all of these shows city streets, sporting events, court rooms and hospitals would all look like movie sets… or even kind of weird and creepy, without Background Actors to add life and personality.
---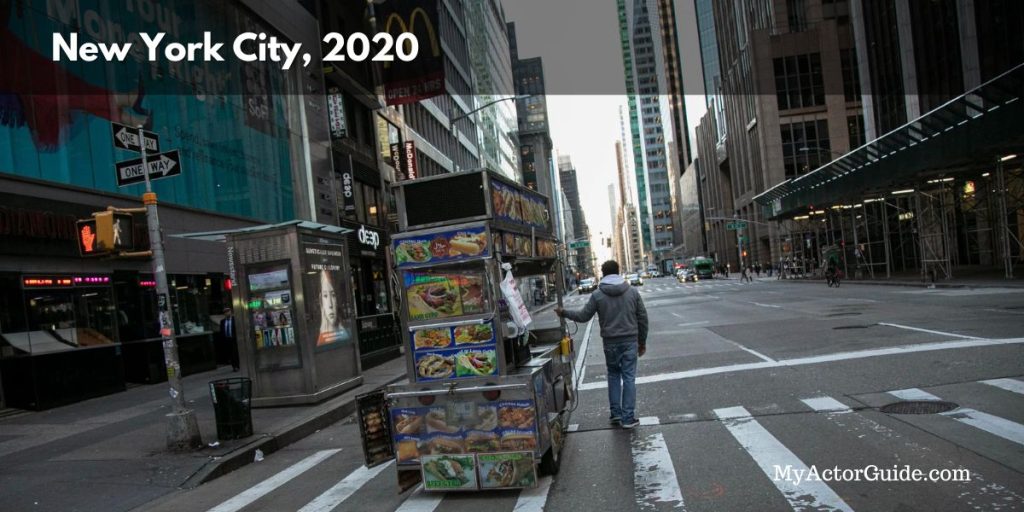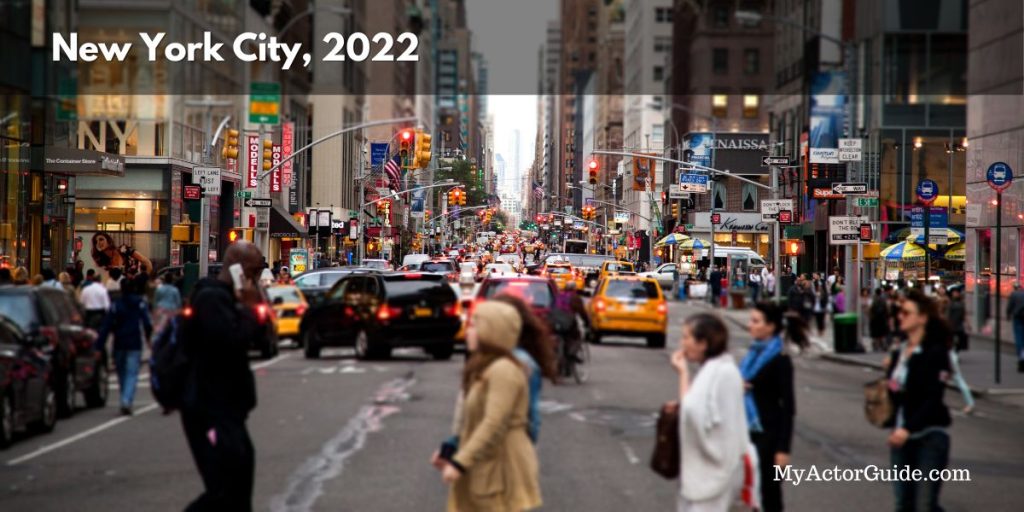 ---
What do Background Actors do?
There's no one single job description that's going to cover every scenario for a Background Actor because your role will literally change from set to set.
One day you may be riding your bike along a boardwalk (and chances are it will actually be your own bike!) and the next hanging out in the halls of a courthouse. The big thing to remember is that Extras / Background Actors are typically directed by the Second Assistant Director, on set referred to as the 2nd AD. (For more on film terms read: 53 Film Terms Actors Need To Know to Survive On-Set
Your role may involve walking around the set and even crossing in front of the camera, interacting with other Background Actors, (silently) and maybe even some contact with the principal actors. Working as background talent gives you a unique opportunity to get real, on-set experience while being paid. It's often a valuable stepping stone to becoming a lead actor.
---
Want more on becoming a Background Actor? Read…..
---
On Set / On Location Etiquette — Do's & Don't Even Think About It!
Do's
Be on Time – Preferably Early
Bring Requested Wardrobe
Sign In and Out – always!
Be Professional on-set – this is an actual job
Be Flexible – call times, wardrobe and locations may change
Follow any of the directions that the crew gives you
Park, Smoke and Hang Out In Designated Areas only!
Stay in designated areas ("Extras Holding") as a group. Do not wander off.
Stay Alert and Listen To Directions
If you need to leave the set to use the restroom you must ask the Extras Coordinator
Clean Up after yourself and dispose of any garbage.
When Eating…. Let the Main Cast + Crew go first! (The crew especially have very long days and work hard and get pretty grumpy without food)
Be Quiet During & Between Takes – seriously! "Quiet on set!" Means just that.
Make sure your cell phone is OFF.
Bring a book or something to do quietly – you will most likely have a lot of down time.
Bring Survival Items (see below)
Don't Even Think About It!
No Friends or Family on-set
No Pets (unless specifically requested)
No Alcohol, Illicit Drugs, Porn or Weapons
No Leaving the Holding Area
No Requesting Autographs or Photos with main cast
No Recording Devices
No Recording with Your Phone
No Changing Your Appearance During The Day
No Leaving Early
DON'T talk to the main actors, director, or assistant directors, unless they speak to you first. They are extremely busy. You are there to WORK and so are they
DON'T take photos or post anything on social media about what you are filming – you could be sharing sensitive information
DON'T look into the camera unless told to do so by the director or an assistant director
DON'T speak during a scene unless directed to do so by one of the directors
DON'T BRING VALUABLES TO SET. There will be no place to secure them and the production company is not responsible for lost or stolen items.
Being professional, reliable and courteous and sensitive to any minors on-set. Doing this will make sure you get called back on future projects.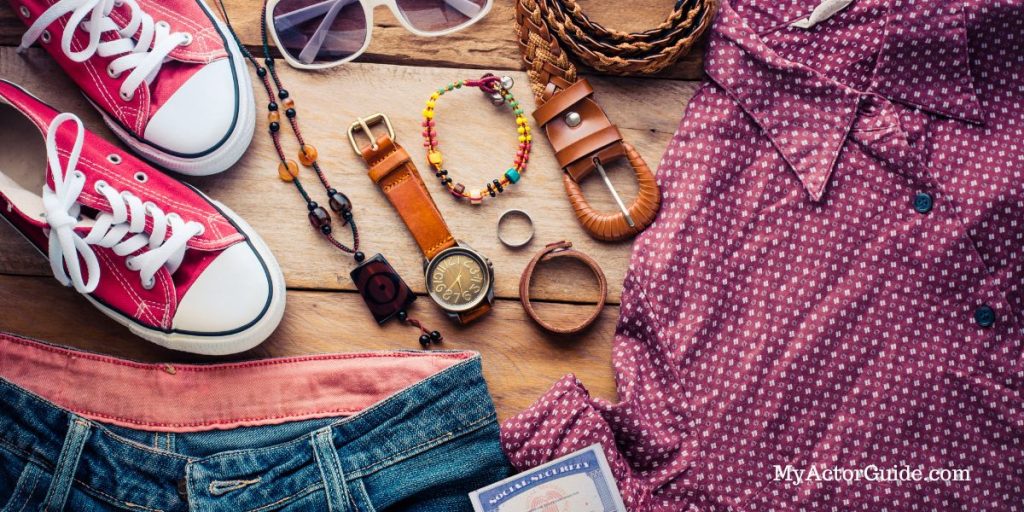 Background Actors' Survival Bag
Again, every set and every production is different, so adapt accordingly, but there are a few things that can make your day or night on set a whole lot more comfortable.
Essential
Photo ID + SSN
Any Wardrobe or Props you were requested to bring
Personal Hygiene Items (days are long!)
Your own Personal Medications if needed
Sunscreen / Protection From Weather
Patience, and more Patience
You are usually asked to bring several changes of clothing, so pay attention to wardrobe guidelines. Have your duffel / garment bag organized with your name clearly labeled or tagged.
Useful
Snacks or a Sandwich (You will be fed on long shoots but timing may be an issue)
Refillable Water Bottle
Books / Podcasts
Earbuds for your Phone
Phone Charger
Vending Machine Money
Curiosity + a Sense of Humor
Almost all filming days run into over-time so be prepared!
---
For more essential film terms to know before heading to set read:
---
On-Set Terms You Absolutely Need To Know
Bump Up
An upgrade in pay when a Background Actor says a few words or performs an other special activity in a scene
Day Player
An Actor who is hired at SAG (Screen Actors Guild) scale minimum for the day
Featured Extra
Someone who is still considered a background performer, but is potentially recognizable but they are NOT speaking.
Photo Double
A non-speaking Background Actor or Model taking the place of a Principal Actor, when the Principal Actor is unavailable and seen partially. (Photo Doubles are often used for nudity and body parts i.e. great legs or hands)
Principal Actor
A main actor with lines.
Stand-in
A Background Actor going through the actions or standing where the Principal actors will. Stand-ins are always similar height and appearance to the main actor and will often wear similar wardrobes the crew can set up shots and check lighting. *Note: Stand-ins are paid at a higher rate
Silent Bit
A Background Actor interacting with the principal such as, bumping into them or pointing out a direction. No lines.
A.D.
Assistant Director. The are often multiples on large sets – 1st AD, 2nd AD etc.
Day Out of Days
A.D. schedule assigning time slots for when certain people or things will work on set
Golden Time
Overtime paid after working sixteen hours straight. It is equal to one's daily rate every hour.
Overtime
Paid after working eight hours straight. Non-SAG is paid at time-and-half for the first two hours and twice the hourly rate from ten to sixteen hours. SAG is paid at time-and-half for the first four hours & twice the hourly rate from twelve to sixteen hours.
P.A.
Production Assistant. A Production Assistant's tasks can and often vary from day to day but generally they are responsible for printing and distributing scripts, running errands for Directors and Producers and relaying messages between members of the crew + cast to make sure everything runs smoothly.
Second Team
A Group of stand-ins who take the primary actors' places allowing them to go to hair and make-up or rest during lighting changes and camera rehearsals
S.A.G. / SAG-AFTRA
Screen Actors Guild union ( for more see: https://www.sagaftra.org )
Taft-Hartley Law (U.S. only)
Allows non-SAG actors to work under a union contract for their first role. After that, you must join SAG.
Upgrade
A rate increase when an actor goes from Background to Principal status
Voucher
A paper given to Background Actors at check-in to be completed and turned in at the end of the day. This applies to both "Cash Extras" as well as those being paid by check
Working as background talent gives you a unique opportunity to get real, on-set experience while being paid. It's often a valuable stepping stone to becoming a lead actor.
I hope this was really helpful! Be sure to share it with your friends and other actors. Keep reaching for the stars and following your dreams! xo Hunter
* Please Note:  I am not an agent, manager, or casting director. I do not procure work for actors. All information, workshops and coaching are for educational purposes only and are not a guarantee or promise of employment. Thank you for being here!