This post may contain affiliate links, so I may receive a commission, at no cost to you, if you make a purchase through a link. Check out the disclosure for more info. And thank you for supporting free content!
For actors, the question is always "Where do I find more auditions? " This can be especially challenging if you are a new actor and don't yet have an agent or a manager. And usually there are 3 key things that all new actors need to get an agent or a manager: experience, credits and footage. And to get any of them, you're going to first need to audition.
Like everything else in your career, the quality and quantity of your auditions will really improve with time and experience. Getting an audition for a network series out of the gate may be tough, but you have just got to jump in and start! Commercials, are a great way to get your foot in the door, and indie films and student projects are also a great way to build your resume, get demo reel footage and your hone your skills, both on-camera and in the audition process.
If you don't have an agent or manager to look out for you, be smart and do your research first; if it sounds too good to be true, it probably is. If they are promising to make you a star overnight or are asking for money to audition, really, serious, just consider walking away!
Be sure to bookmark this page and go through the sites and at least set-up online profiles for yourself with whatever materials you have, (headshots etc.) to get your name and image out there. And although they are a great place to start, please note that I am not endorsing any of these sites, but I have researched whatever is here. They are the best I've found so far and only included ones that are legit. So jump in, try this out, and start building your career.
---
---
Here are 11 of the best FREE audition and casting websites that every new actor should know about.
---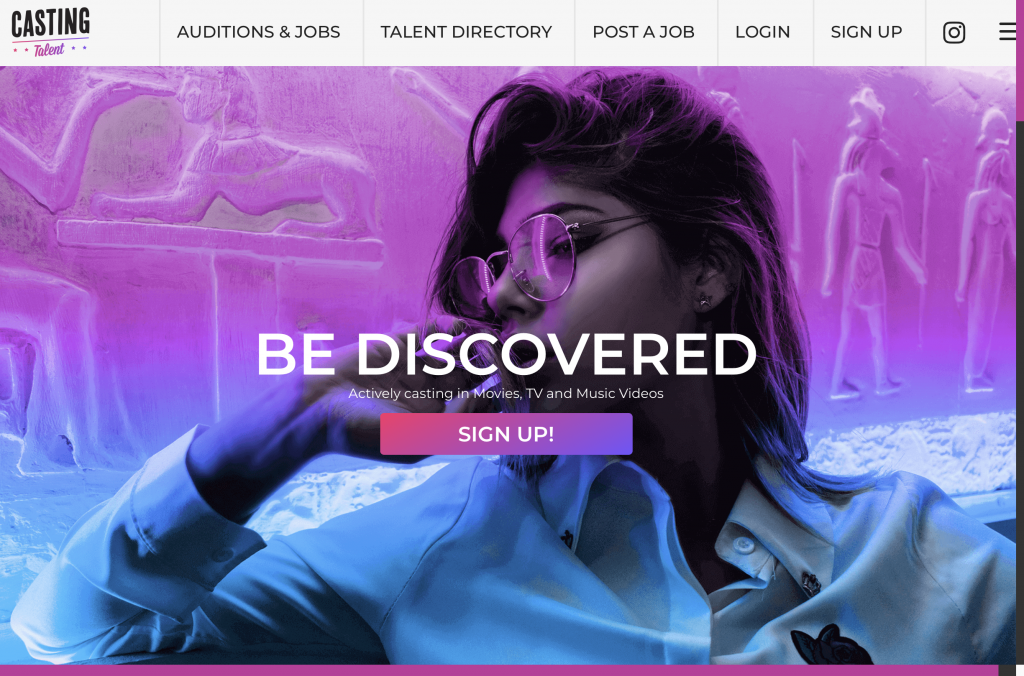 Similar to Casting Call Hub (below) this is a big, pretty, glossy site with a lot of big network auditions – for very specific roles. But one of the things I love about this site is that they have really amazing talent directory. Well laid out, looks very professional, and a great option before you have your own website.
---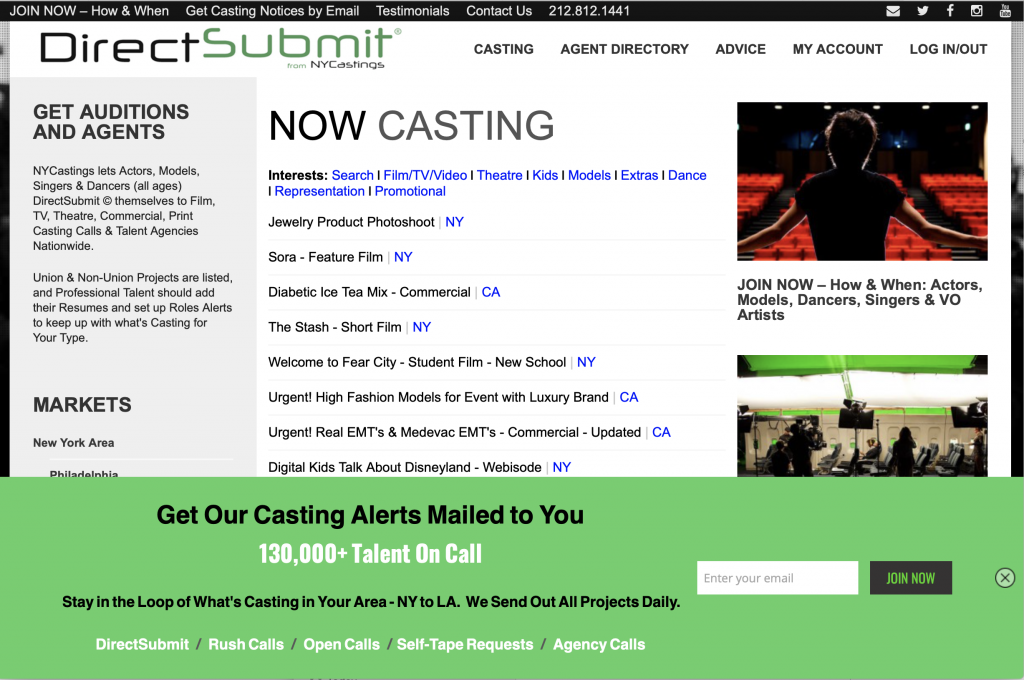 This is by far my favorite site and probably one of the most reputable of the free sites. And they don't just list for New York area, they also have listings for Los Angeles, Atlanta, Chicago, Las Vegas, New Orleans, SanDiego, San Francisco and Seattle to name a few.
---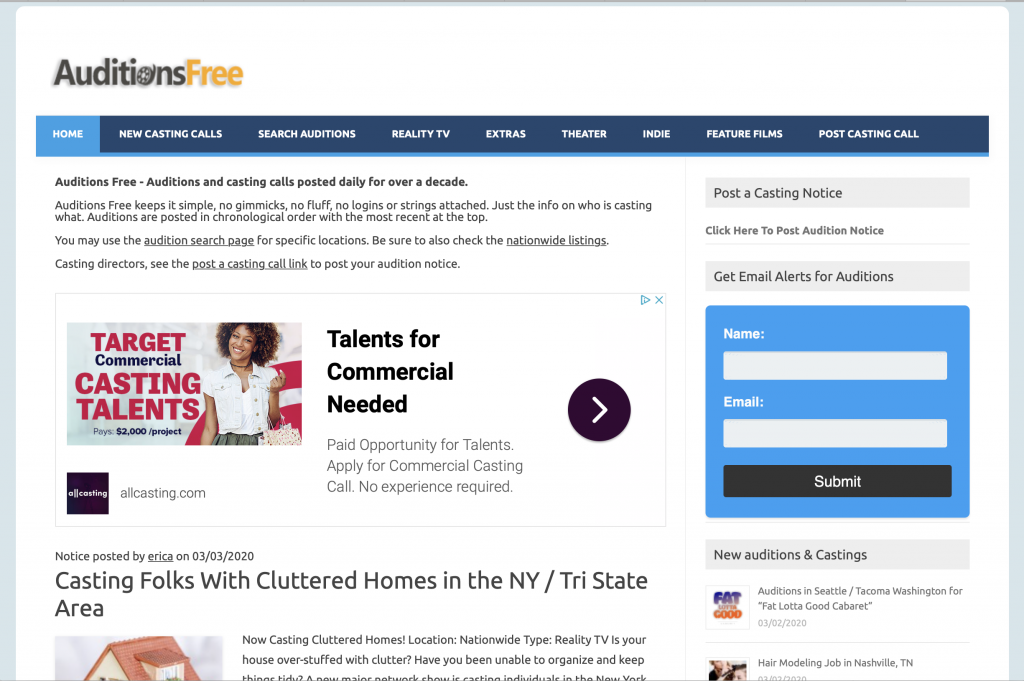 This is another fav and very reputable, with audition listings in Los Angeles, Chicago, Atlanta, London and New York. They also specify "Nation Wide" for broad casting calls and even have a section for Reality TV.
---
---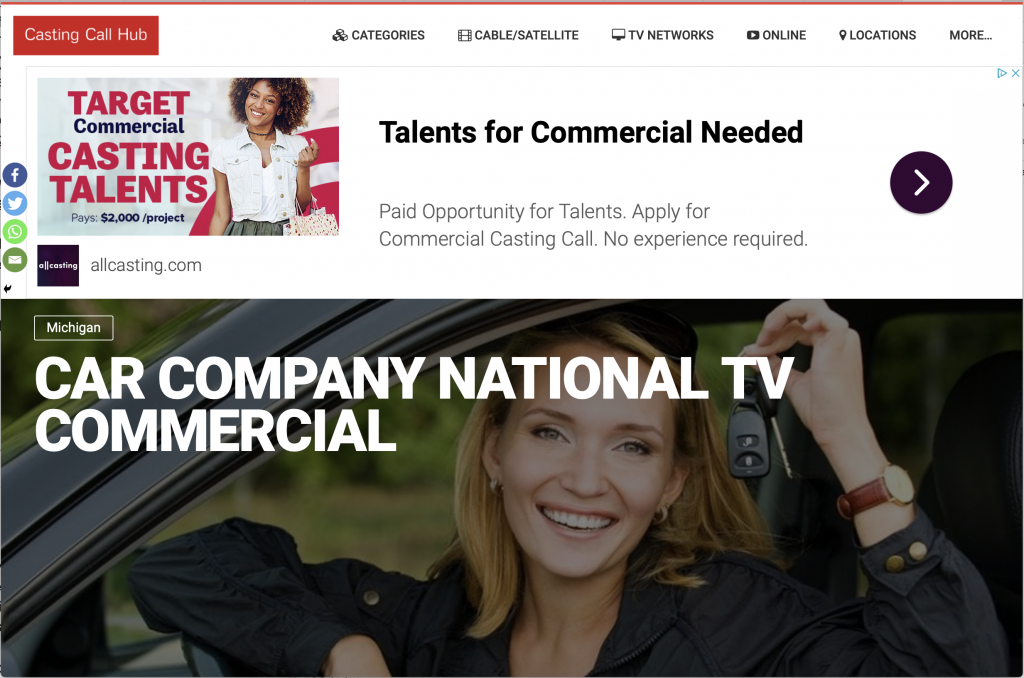 Another well-established site with a wide variety of castings, many of which are very specific. (i.e. looking for an 18 month old blonde baby girl) They include TV Networks, Cable and Satellite as well as Online / Streaming. They have more than a dozen specific categories such as Acting, Documentary, Extras, Film, Modeling, Reality TV, Sitcoms etc.
---
Project Casting is a great news site to keep up with what's going on in TV land. The casting calls seem great, again, big, glossy pretty site, and may show a casting call for a show like Dynasty, that is really for specific extras and pays about $110. Still lots of great info here and worth checking out and adding to your arsenal.
---
NOTE: It has come to my attention that AllCasting.com is charging people to submit to auditions – it doesn't mention this anywhere before you sign-up. This is not how legitimate casting sites work. I no longer recommend this site and will be removing the listing.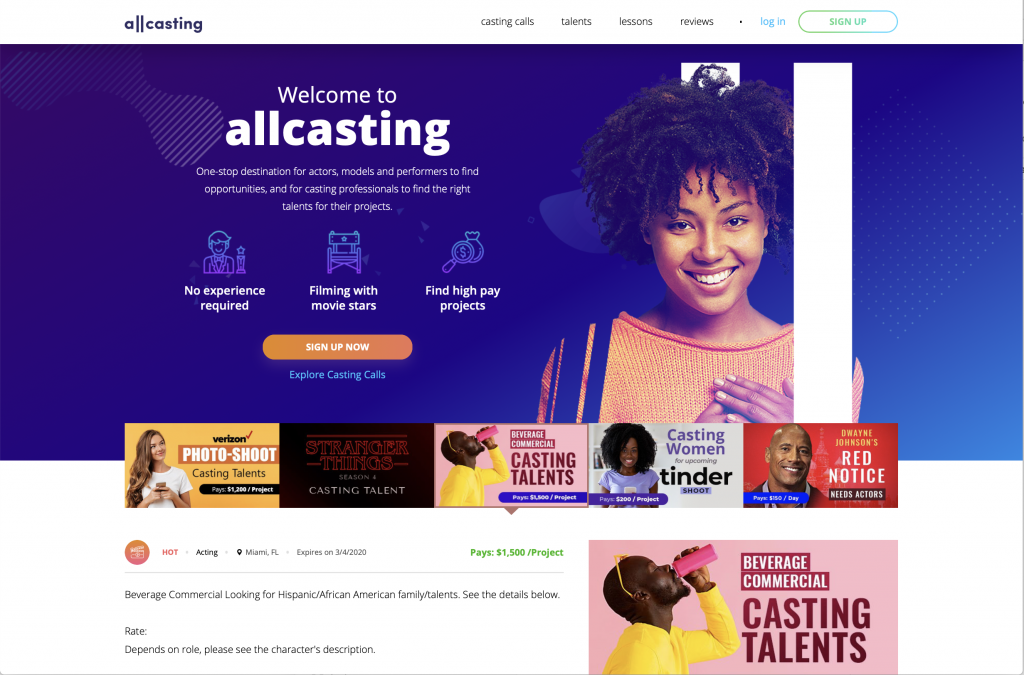 All Casting
Similar to the others, I'm not seeing a huge difference, but one thing that is nice about this site is that there are a lot of reviews from other talent, and a very cool feature for creating a great looking online profile! They seem to have a lot of fresh content, with new casting calls coming in every day.
---
---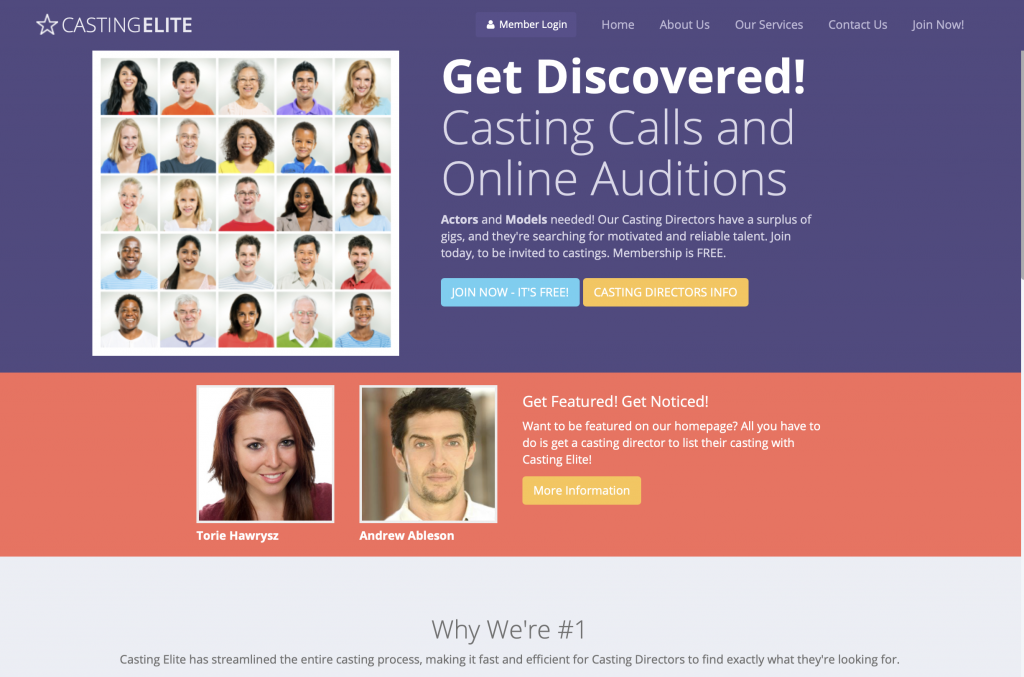 This is a bit of a unique service where 100% of the auditions are done online. You create a profile, casting directors post audition notices, you self-record the audition and upload it. and it's completely free!
Up side: Saves you a lot of time and money running around town for what could be waste of time auditions.
Down side: You don't get the chance to charm people in person 🙂
---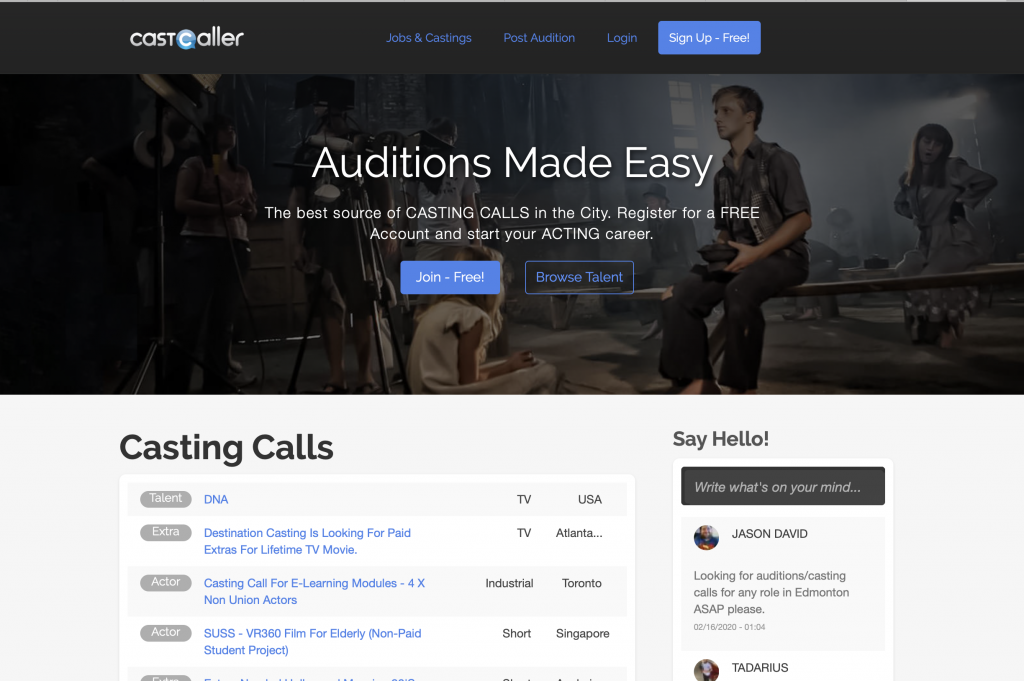 In addition to the standard casting site features, Cast Caller also allows talent to upload video clips and receive endorsements from people you've worked with. You can search casting calls by region and see if they're union or non-union, paid or not and what type of production. When I looked, there were a lot of non-union commercials and short films. Great way to get experience! But make sure to complete your profile as I noticed many actors listed on this site hadn't taken the time to do that.
---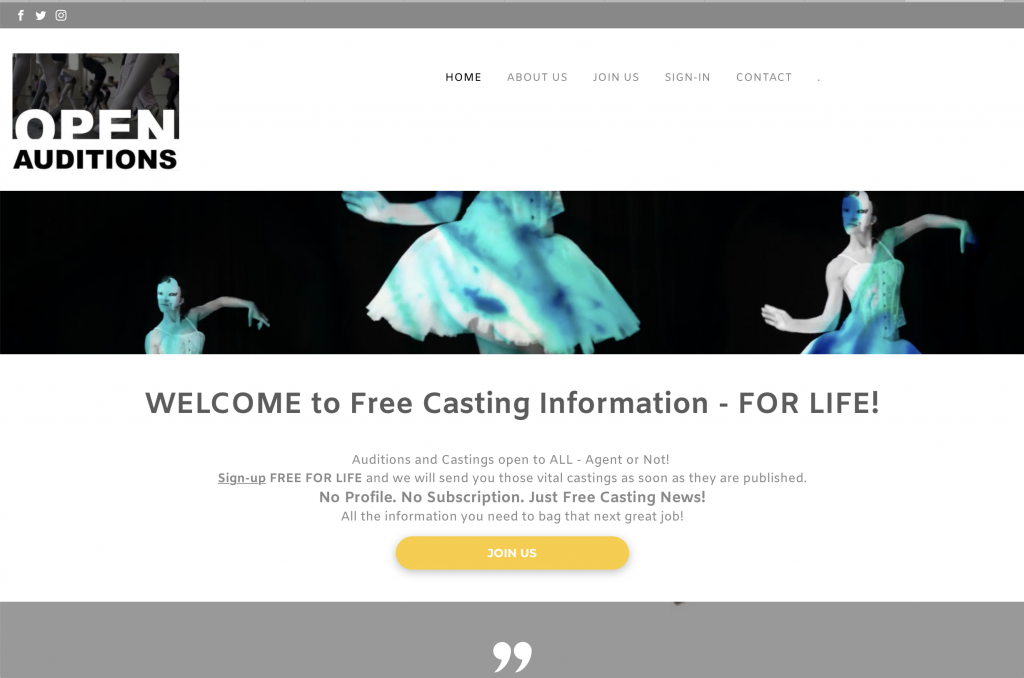 This is a very unique site in that it is run by actors! And yes… in the UK. They compile audition notices that they find online and repost them. Not a major player in the online audition space, but if you are looking for work in the UK, it's a very specific resource.
---
And I have to mention these two biggies….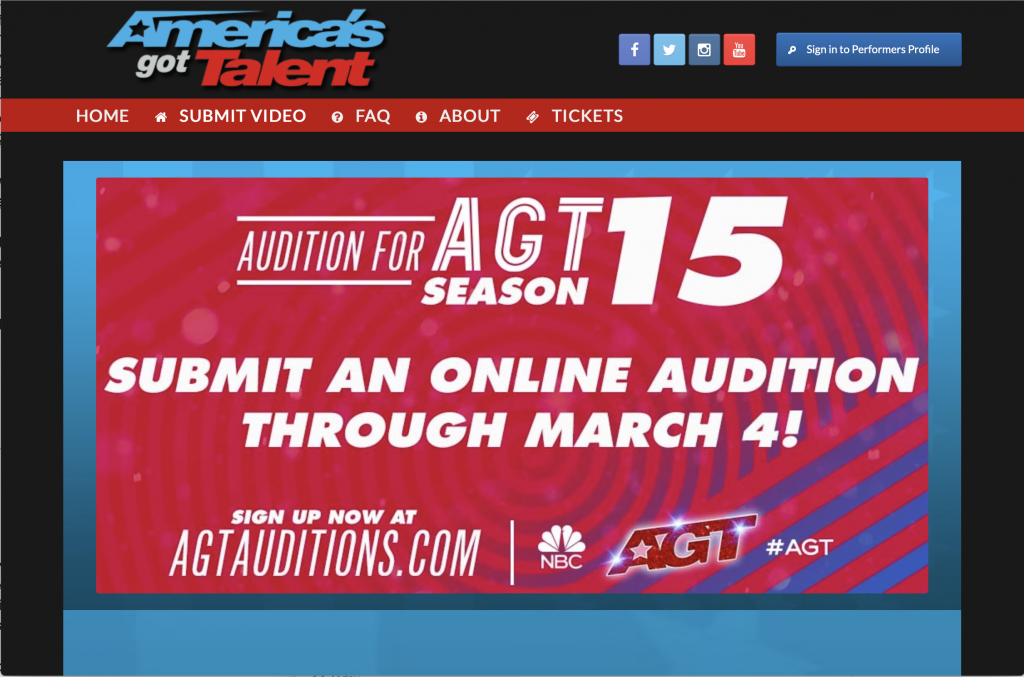 I couldn't go without mentioning this one! Think you have what it takes to be a superstar? Check out the largest talent competition show in the world…. you never know if you might hit it big or at least get massive exposure.
---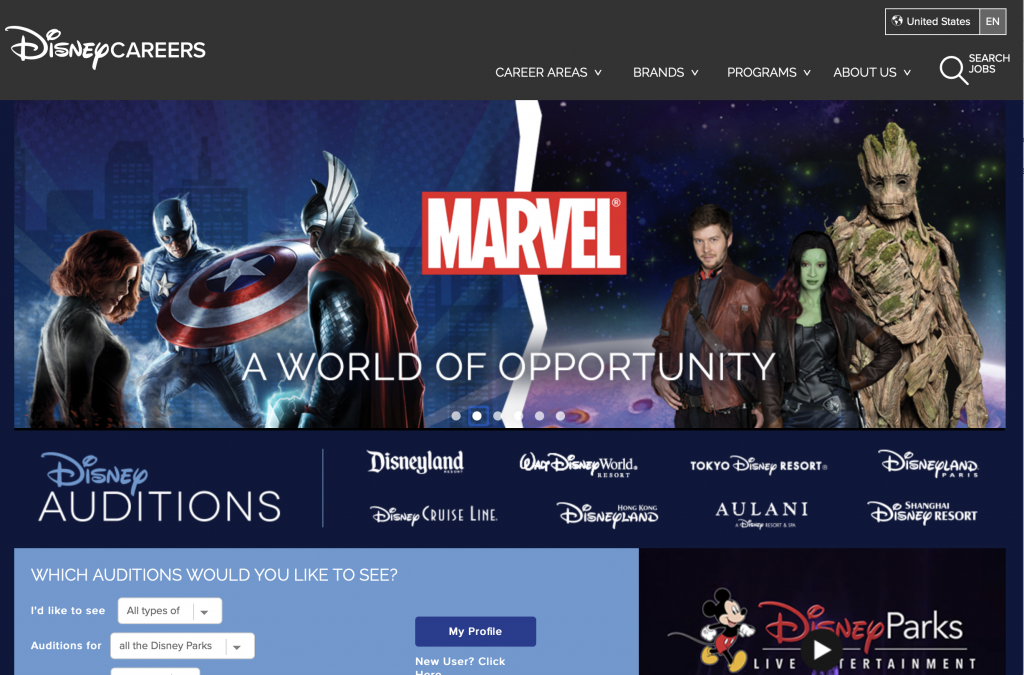 Ever thought about working for one of the largest entertainment companies in the world? Actors, dancers, musicians, stunt performers and variety acts can apply for work at Disney cruise lines and theme parks around the world. While they don't seem to list TV auditions here, I know many actors who got their start and made great money while having fun, doing what they loved and cruising around the world.
---
For more acting auditions…..
---
I'd love to hear your thoughts:
What audition challenges do you face?
What stage of your career are you at?
Where do you live? What city or town?
And what are your big audition questions?
Head to the comments sections and post your answers below. I promise to respond to every one!
Did you like or love this post? Be sure to share it on Facebook, send it to actor friends, Pin it or Tweet it! It's a tough business and we could all use a little help out there!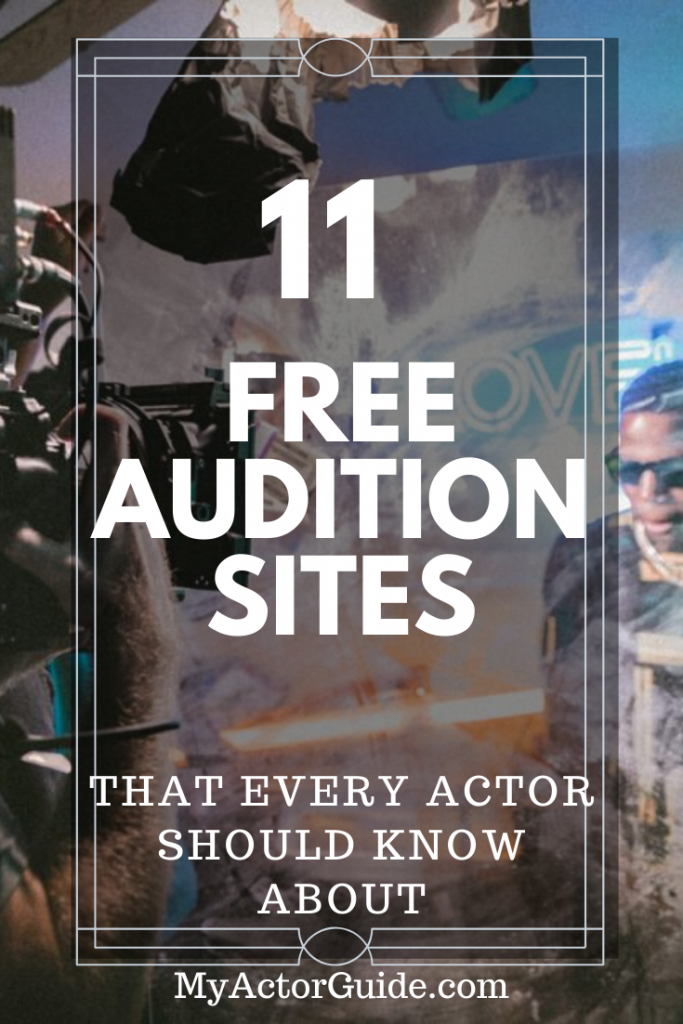 * Please Note: I am not an agent, manager, or casting director. I do not procure work for actors. All information, workshops and coaching are for educational purposes only and are not a guarantee or promise of employment. Thank you for being here!