This post may contain affiliate links, so I may receive a commission, at no cost to you, if you make a purchase through a link. Check out the disclosure  for more info. And thank you for supporting free content!
No matter what industry you're in, strong relationships are key to getting to the next level. This is especially important for actors and their agents. This is true wherever you're at in your career, yet, many actors don't invest the time or energy into cultivating a deeper connection with their reps. Ideally, you and your reps should be a team. Everyone should feel confident and trust that they are working well together.
Here are a few tips to help you build and maintain strong relationships with your agents and/or manager so you can be certain that they are working hard on your behalf. Whether you currently have agents and a manager or are looking to sign with new reps, here are a few ways to nurture a positive and collaborative experience.
1. Respect Boundaries
Agents Are Your Business Allies, Not Your Best Friend
One of the biggest complaints that I hear from agents and managers is that actors expect so much from them! While a manager will help guide your career, assist you with next level decisions, headshots, marketing etc. that's not the job of your agent. They are also not your sounding board if you're having a bad day or experiencing career anxiety. Again, this falls into manager territory or even an acting business coach or life coach. Treat them as respected business partners and not your BFFs! Choose your communication style accordingly and be very judicious in what you communicate with them about.
Also read: What's the Difference Between and Agent and a Manager
2. Speak Their Language
Know Their Preferred Communication Style
Hopefully, this is something you discussed during your initial meeting is their preferred mode and frequency of contact with clients. Some reps want to chat on the phone about your life every week and stay on top of what you're doing, and some only reach out to communicate auditions and bookings. In my experience, most prefer email or even text messages, used sparingly, but I've found that managers especially want to sit down in person. It's impossible to know this upfront, so make sure to get clarity on their preferences if it wasn't made clear.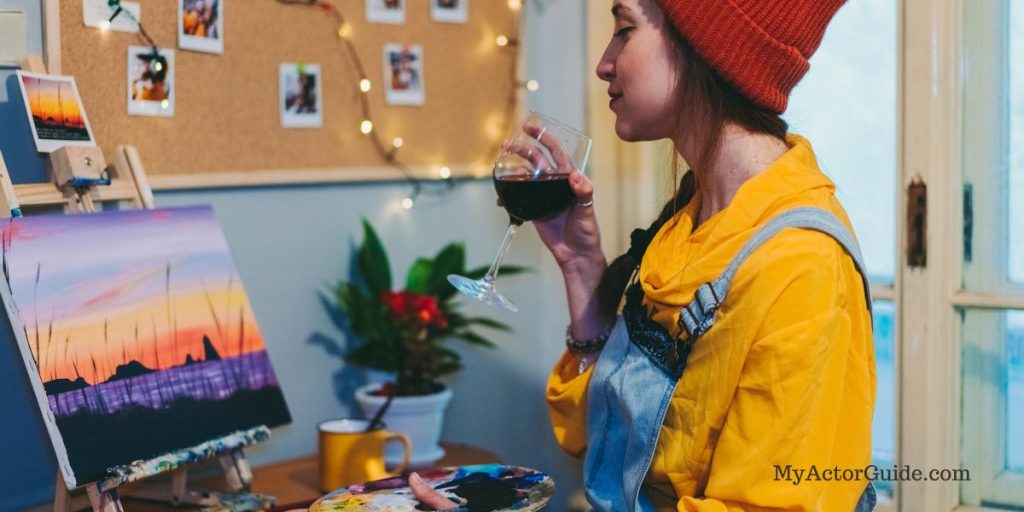 3. Get To Know Them
Know Their Hobbies and Interests
As actors, we tend to be super enthusiastic about our acting… And our careers! But for other people in the business this can just be boring. Remember, they are real people with real lives, families, pets, trips they want to take and things that interest them.
One of best the ways to be memorable is to take an interest in them…. and talk about anything besides work.
Take the time to do some social media sleuthing to learn what their interests are outside of the industry. If you're chatting with your reps, occasionally shift the conversation to their personal lives – not private lives, but general, "What are you up to this weekend? What shows are you watching right now? Have you seen any good movies lately?"
Keep the conversation fun and lighthearted and they'll forget they're still at work. Ask them about things that they enjoy, hobbies, family, interests. This intel can also come in handy when you need gifts for birthdays, holidays, as a thank you, to say congratulations, or just because.
4. Include Everyone
Don't Forget the Assistants
If you're with a bigger agency, trying to get through to a rep for a phone call or to set up a meeting probably means going through their assistant. If they have one, this wonderful person is most likely your first point of contact.
Assistants generally have the power to move around schedules and can put in a good word for you if needed. If you gain their trust, they have the ability to provide insights and access into the inner workings of the office dynamic.
Invite them out to lunch or coffee, send them a Starbucks gift card and have a virtual or Zoom coffee, definitely include them whenever you drop off goodies, and, if you're at the office in-person and they don't seem too busy, spend a few minutes chatting so you get to know them on a personal level. Relationships are everything, and it just feels good!
5. Say Happy Birthday!
Know Everyone's Birthdays
Yes, everyone's. This includes the assistants.
I once had reps who used to call everyone on the roster on their birthday and sing them happy birthday… Yes really! Needless to say, they knew all of their clients really well and were amazing to work with! Well this hasn't happened since, but obviously it's something that has stuck with me for years. Think of how good it feels when someone remembers your birthday?
Look up your reps' birthdays on Facebook or other social platforms if it's available. If not, ask their assistants or ask them directly. You don't have to spend a bunch of money on expensive gifts, and if you haven't booked anything with them yet, you may just want to send a Happy Birthday message. Keep it thoughtful. DoorDash them a birthday lunch, take them out for a drink sometime during their birthday week, send them a gift certificate for Sprinkles Cupcakes, or just send them a Happy Birthday email every year. Just a little something to say I remember you, I care and have a wonderful day!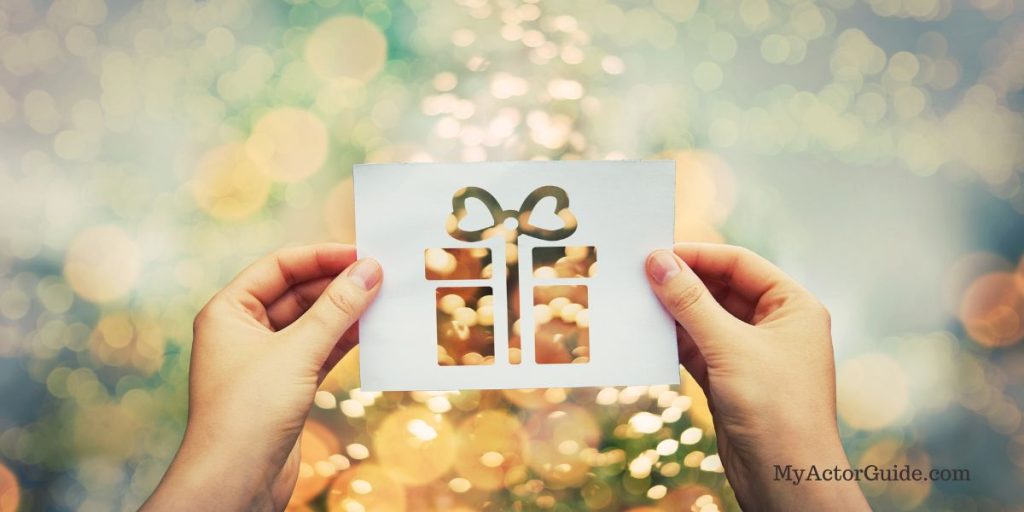 6. November Drop-Offs
Do Holiday Drop-Ins / Drop-Offs… Around Thanksgiving
In the U.S., holiday season kicks off with Thanksgiving.
Once the first week of December hits, agent and managers offices get ready to close for the holidays, and it's usually mass chaos as clients come in to drop off holiday gifts and get in a little face time before network pilot season.
With so many clients coming and going within the span of a couple weeks, it can be easy to get lost in the mix, and I've heard many reps say that they're just overwhelmed at this time. Who brought what gift? And for who? Their office is literally get piled up with holiday treats. And then there are the inner office conversations of, "Who's going on vacation? When and where?" Conversations with talent can often be rushed and repetitive.
To side-step this, try dropping in for the holidays in November versus December. "The holidays" technically start with Thanksgiving. And what more appropriate time to stop in and give thanks? It's less crowded, and reps will likely have more time to chat with you one-on-one without being pulled away with the arrival of another tray of gourmet cookies or client hoping for a little in-person face time.
Another option is to pick another favorite holiday at a totally different time of year to drop in. Remember what I said earlier about building trust with the assistant? National Assistant's Day is in April… just sayin'.
Fun Note: Need a little inspiration? A.K.A. an excuse to reach out to your reps? Check out NationalToday.com that lists celebrations for every day of the year!
7. Talk It Out
If Something Really Isn't Working, Ask For a Conversation
In any relationship they are going to be problems. Sometimes these are actual issues that need to be fixed, and sometimes misperceptions, lack of information or simply hurt feelings. If something really isn't working ask your agent for a quick conversation; quick being the operative word. Define how long the conversation will last and where and how it will take place. Example: "Hey, do you have time to jump on a quick Zoom call with me, maybe 10 minutes. Just want to talk about how we can work better together. Kind of a virtual coffee. :)" … and consider sending a $5 or $10 Starbucks gift certificate. Think of how you might react in a similar situation, if this is how someone approached a difficult conversation?
This can soften the message without changing the importance, and prevents feedback or concerns from being perceived in a much harsher way than intended. Remember, you want to foster more productive communications between you and your team, not alienate them.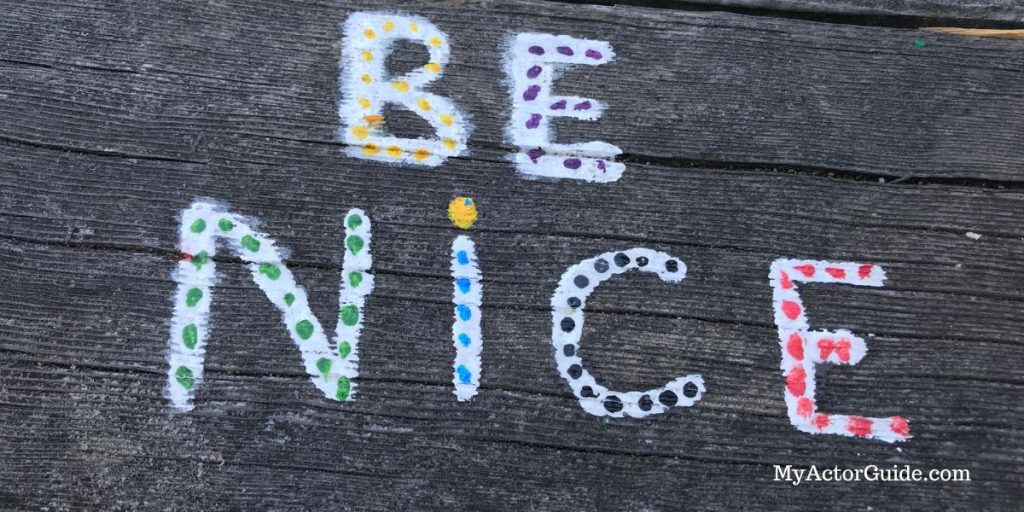 8. Be a Nice Human
Be Thoughtful and Considerate
This is a good plan in life in general, but especially with a team that you want to work with and who you are hoping are going to help you book acting gigs! The last thing you want is to get a reputation as the client a.k.a. "that actor" who only reaches out when you want something.
Consider periodically emailing your reps without an ask. Just simply, "I saw this online yesterday and thought you might find this interesting…." or even dropping in occasionally when you're in the neighborhood for a (super) quick chat. (Note: Post Covid, most agents that aren't with huge agencies are still working from home so make sure you find this out first) always remember to be respectful of their time, but also show that you're thinking of them and ways to make their day better!
Reach out once in a while with a value-add but no ask, and I guarantee you'll stand out from the crowd. Just don't spam their inboxes! Keep this infrequent, as in every 2-3 months max and take their preferred communication frequency and style into consideration.
Agents and managers are part of a team that you bring together so you can optimize business profits…. together. They are hoping that you are going to add to their bottom line as well. Treat them as the valued, respected coworkers they are, and even if it doesn't ultimately work out in a business sense, you'll maintain positive interpersonal relationships that could impact your career for years to come!
Also read:
• How To Be Successful Actor At Any Age
• 9 Personality Traits the Will Make You Successful as an Actor
Did these tips help you? Like it if you like it! Share it, tweet it, post it, send it to a friend! This business is all about relationships 🙂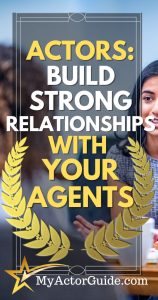 * Please Note:  I am not an agent, manager, or casting director. I do not procure work for actors. All information, workshops and coaching are for educational purposes only and are not a guarantee or promise of employment. Thank you for being here!